Return to Blog
International Tax Planning and Compliance - Summary of President Obama's FY 2013 Budget Proposal
Author:
Eric Majchrzak
NOTE – The following information presents proposed revision for international tax payers, not new legislation, regulation or tax code changes . It is presented for information purposes only. The Tax Team at FreedMaxick will continue to stay abreast of all tax discussions and provide our clients and friends of the firm with updates.
The following presents summary highlights only. Click here for to download the full, comprehensive report.
In recent years, President Obama's budgets have carried a number of international tax reforms. The President's FY 2013 budget likewise includes international provisions. Highlights include:
Interest Expense Deduction. President Obama's budget would defer the deduction of interest expense allocable to foreign-source income (of a subsidiary) that exceeds the proportional amount of income of the subsidiary that is currently subject to U.S. taxes.
Foreign Tax Credit. President Obama has proposed requiring a U.S. taxpayer to determine its deemed paid foreign tax credit under Code Sec. 902 by aggregating taxes and earnings and profits of all of its foreign subsidiaries. The tax credit to be claimed would be limited to the proportionate amount of consolidated earnings that are repatriated to the U.S and currently subject to U.S. taxes.
Transfers of Intangibles. If a U.S. corporation transfers an intangible asset to a related controlled foreign corporation (CFC), "excess" income from the intangible would be treated as Subpart F income and would be currently taxable, if an income is subject to a low foreign effective tax rate.
Reinsurance Premiums. The proposal would deny an insurance company a deduction for premiums paid to affiliated foreign companies for reinsurance of property, if the foreign insurer is not subject to U.S. taxes on the premiums received.
Earnings Stripping. The proposal would tighten the limitation on the deductibility of interest paid by an expatriate entity (a U.S. parent company that is replaced with a foreign parent) to related persons.
Dual Capacity Taxpayers. The President's budget would further limit the portion of a payment that is treated as a creditable foreign income tax.
Partnership Interest. The proposal would require that gain or loss from the sale of a partnership interest is effectively connected income (ECI), taxable in the U.S., to the extent attributable to unrealized gain or loss from ECI property.
Leveraged Distributions. The President would prevent the distribution to the U.S. owner from being treated as a nontaxable return of capital, by disregarding the shareholder's basis in the distribution corporation's work.
Certain Asset Acquisitions. The proposal would extend Code Sec. 338(h)(16) to any CCA described in Code Sec 901(m).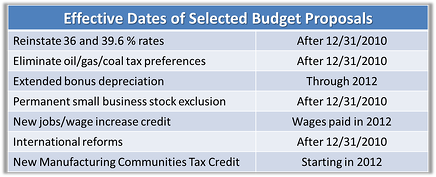 The above information has been presented for information purposes only and does not represent FreedMaxick's position or guidance on the subject. Should you wish to discuss these proposals at greater length, contact us or call us at 716.847.2651.