By Samantha Southall, CPA
Senior Tax Manager
When entrepreneurs from outside our state think of New York, they think high taxes. Forget about the amazing talent pool, the beautiful landscape, the history or the incredible natural resources. New York with its high income tax, property tax, franchise tax, and sales tax makes it a prime candidate for business exodus, never mind attracting new business. But perhaps that perception is about to change…..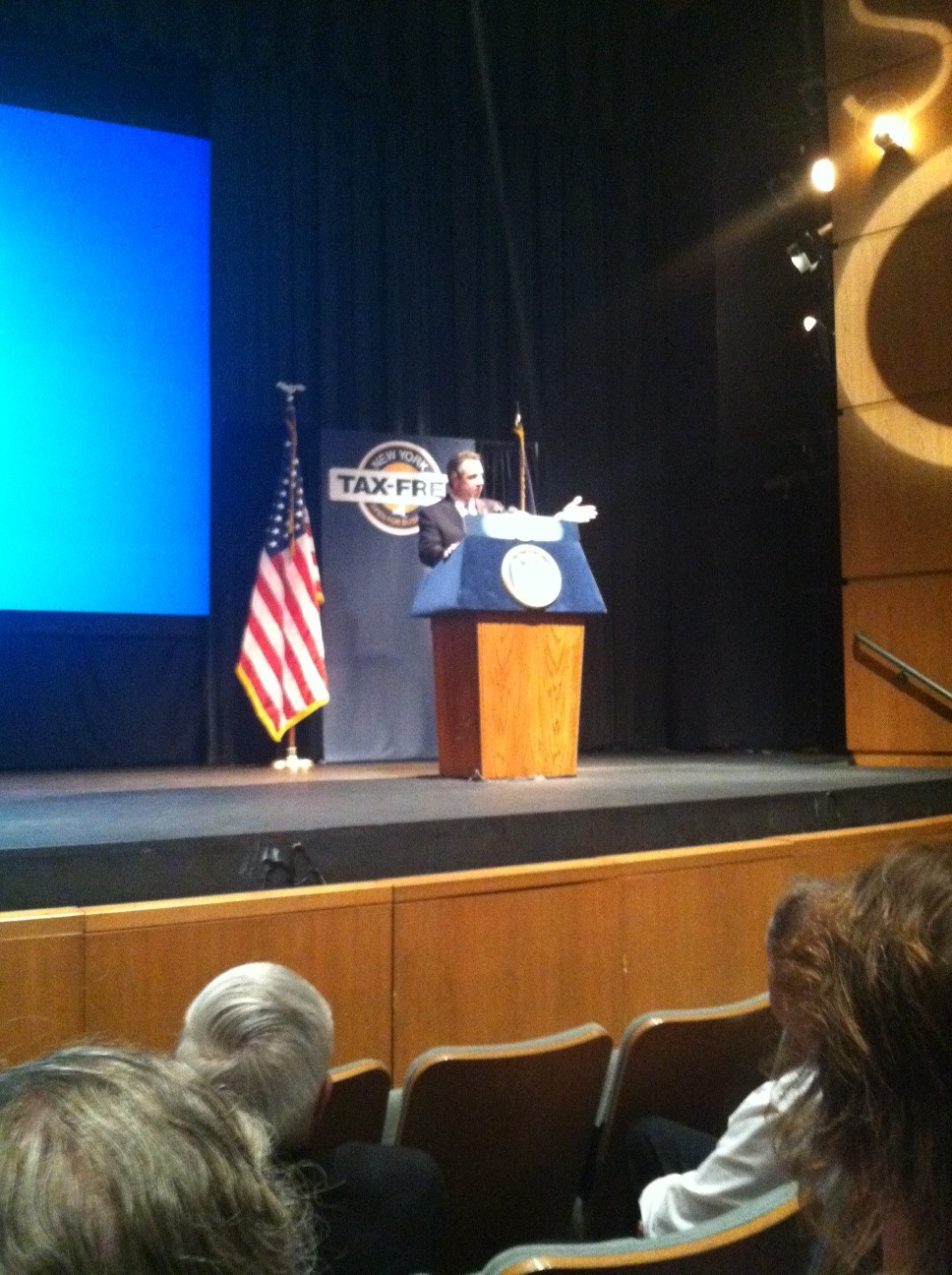 On May 30th I was invited to hear Governor Cuomo speak at Genesee Community College about his new proposal titled "Tax Free New York." The Governor's message came across loud and clear – Upstate New York has been in an economic downturn for decades. With job growth of only 5%, over the past ten years, we trail the national job growth rate of 9% by almost half and New York City's job growth of 16% by two thirds – figures that the Governor deemed embarrassing. He claims that the "Tax Free New York" program will be a complete game changer. The premise of the proposal is this:
New York is competing with other states to attract new business; states which have low or no income tax. The whole foundation of this proposal is grounded in the belief that once you level the "tax" playing field, New York will win out every time.
So what exactly does "Tax Free New York" actually mean you ask?
Well, it means exactly what it says. For businesses that qualify, under the proposed program, they will pay no property taxes, corporate level franchise taxes, sales tax and their employees will not pay any New York State income tax. According to the Governor "no other State has ever done anything like this"- ever. That sounds like a pretty tall order to fill.
The goal is to capitalize on the world class higher education institutions we have in New York and use the university talent to draw new businesses onto or near SUNY campuses. There will be approximately 120 million square feet of designated properties for these "Tax Free" communities including: SUNY campuses, some private higher education institution campuses, and twenty strategically placed inactive properties owned by the state (i.e. the Governor used a vacant prison as an example). To qualify for the "Tax Free" community, a business must create new jobs. Unlike previous incentive programs that had large loopholes, there will be no benefit to businesses transferring employees.
Governor Cuomo closed by stating that in the case of attracting and retaining business, "The competition isn't beating us. We are beating us." As New Yorkers, we all want the same thing. We want continue to live in Upstate New York because we love it here. We want our children to grow up, become educated and be able to have a career in Upstate if they so desire. In order to do that, New York can no longer continue to "tax businesses to death."
I know that at the end of the presentation, I felt a high amount of energy in the room, but then there was no question and answer session allowed, and of course there are always questions. I may have been the only CPA in the room, but I was thinking about who is going to pay for this? I think it is difficult for anyone to say conclusively at the current juncture, whether this program will work or not, but it is a step in the right direction. If the proposal passes, then New Yorkers will have time to see how the whole thing plays out.
View full article