How Will Your Investment Today Help With Future Challenges?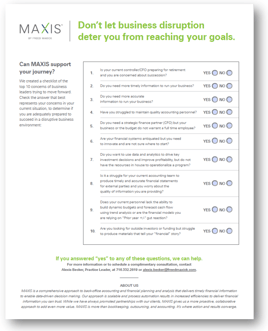 Assess Your Level of Business Certainty With Our Complimentary Checklist
Business disruption wreaked havoc with companies for more than a year. Now that the dust is settling, many companies are finding it challenging to get back on track. Decisions made in times of uncertainty are fraught with doubt and apprehension.
MAXIS™ by Freed Maxick brings more assurance to financial and business decision making, because it enables you see the big picture as well as the minute detail. With more confidence and better predictability, the path forward becomes clear and growth is inevitable.
Want to know if MAXIS can work for your organization? Simply open the Top Ten Concerns That Business Leaders Have checklist, complete and submit. Let's get you growing again!

---