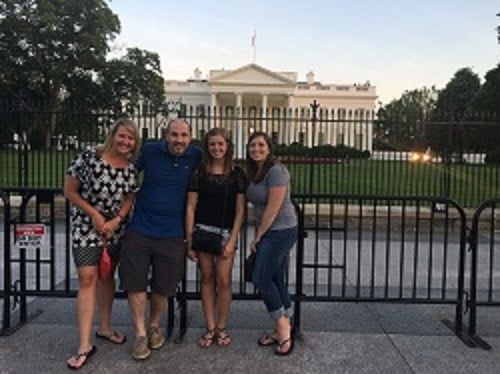 Did you know the stone used to build the Washington Monument is a different color at the top because construction was halted for 23 years during the Civil War? During the war, there was a lack of available funds to finish the project and when construction resumed, they had to continue with a different shade of stone! This is just one of many things I learned last week in Washington D.C. where Barb Danner, Pat Clancy, Carly Zecher and I attended the 2015 Employee Benefits Plan Conference.
Each year the conference is held in a different location. Thousands of attendees come from all over the country to attend sessions related to employee benefit plan audits. The sessions are taught by industry experts from a wide range of accounting firms. We attended sessions including current "hot topics" and new accounting standard updates, fraud in employee benefit plans, auditing distributions, correcting errors with the IRS, as well as sessions focused on specialized types of benefit plans such as 11-k audits, defined benefit plan audits, and 403(b) plan audits. We also attended sessions where we could "ask the expert" and submit questions to be answered live by a panel of the instructors. The sessions were informative and took a deeper dive into issues we see every day when auditing these plans. My favorite session was presented by a motivational speaker who encouraged us to "unleash our inner superheroes" and come up with creative ways to stay innovative and be the best we can be when it comes to serving our clients.
When the conference ended each night, we had time to explore the city. Our conference center was located in National Harbor, Maryland which is a short drive from Washington D.C. On our last night, we took a guided tour of Washington D.C. and learned a lot of interesting facts about the city's history. We drove by a number of sites on the bus, but had a chance to get out, walk around, and take pictures at several monuments and buildings including the U.S. Capitol, Supreme Court, Jefferson Memorial, Lincoln Memorial, Washington Monument, Korean and World War II Memorials, and of course, the White House. I encourage everyone who visits Washington D.C. to take a guided tour. I had seen all of these sites before, but hearing the little known facts about them made the trip even more interesting and memorable!