Freed Maxick has made a new addition to their Human Resources Team! Jennifer Arutunjan has joined us as Manager of Learning and Development.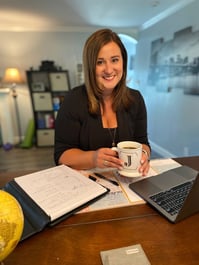 Jennifer has an MBA from Canisius College, and over 10 years of experience managing high performing teams and cultivating a premium work culture. Most recently, she was the Senior Training Manager for Pegula Sports and Entertainment in their hospitality division.
In the first of a three-part series profiling Jen, we sat down with her for a Q&A. Keep reading to learn more about her!
Q. First things first - welcome to the firm! How are you feeling about joining the organization?
A. I'm very excited to join Freed Maxick as Manager of Learning and Development. I find the most joy in helping others succeed. I love sharing information and truly believe in having an abundance mindset. I am looking forward to providing support to our team members as they progress throughout their careers, and focusing on the overall functionality of training and development at the firm. I am only successful if our people are successful. Keeping my focus on our people and their growth and development is a huge priority for me.
Q. Tell us a little bit more about your career path, and what ultimately led you to this role?
A. I started working in the restaurant industry when I was just 16. It was this little sandwich shop, and it sparked my love for the food and beverage industry, and I ended up studying hotel and restaurant
management for my undergrad.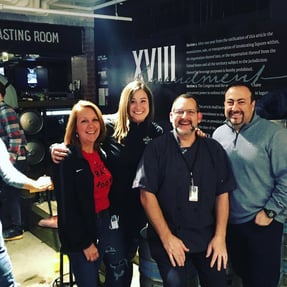 After college, I started with the Hard Rock Café in Niagara Falls and it was there that I got involved with the training and development side of the industry. Hard Rock
is a huge, global brand and had a very detailed corporate training program. It really sparked my interest in training and development, how everything was so organized and consistent for each and every employee. It was then that I realized this is really what I wanted to be involved with. As my career progressed, I just kept making sure to always be involved somehow with the training side of things. In 2010 I ended up moving to the Hard Rock in DC as their Training manager, where I onboarded employees and was highly involved in their training paths and progress. So for the past ten years my training and development background and career has really sky rocketed. After I left Hard Rock I worked with Founding Farmers, and was able to do even more - come up with and actually created some of their training documents from scratch. I really loved that.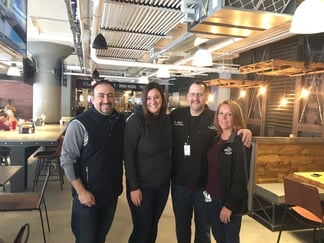 Before I found Freed, and for the last six years, I was with Pegula Sports and Entertainment, and had a portfolio of about 5 full service restaurants that I supported and 5 quick service restaurants that I assisted supporting. There I was involved with all of the opening trainings, creating training materials, managing training calendars and a lot more. I really got to dive deep into the training industry and understand the importance of having training systems and procedures in place.
Then I was furloughed due to the COVID pandemic, and Freed Maxick came along. It seemed like the perfect fit to continue doing what I love to do and work with a well-known company, and here I am!
Q. Who are some of your role models - personal and professional?
A. Definitely my parents. They are so hardworking, kind, giving and caring. They took in my Great Aunt Helen who was older and living alone, and she lived with them for nine years. Their selflessness is truly something to look up to and something I've always wanted to reflect within myself.
Professionally speaking, my former boss Dominic Verni (Vice President of Hospitality at PSE) is someone I have always admired. I've know him for 13 years now and he is such a great leader and it's inspiring to see what he's done with his own career. He has always had faith in my own personal growth and development and is one of my biggest fans.
Wow, we really dove in! Check back next week for Part 2.