It's time for Part 2 of our Faces of Freed series, with new Manager of Learning and Development Jen Arutunjan!
Last week we talked about Jen's career path, what led her to Freed Maxick, and some of her personal and professional role models. What are we getting into this week? Keep reading to find out!
Q. What is one of your favorite things about what you do?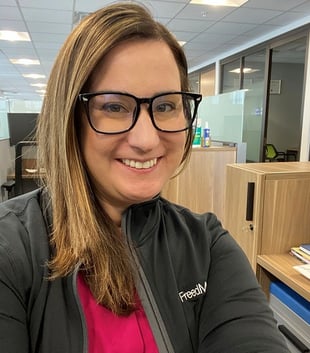 A. Helping people succeed and being their best self is what I love the most about what I do. I think we've probably all gone through experiences where we've felt lost throughout training, we may not understand things, and you can lose employees that way. So for me when staff can go through a training program I designed and know I'm there as a constant support throughout their career that feels good. And, when I see someone get promoted it's always an incredible feeling because hopefully I had something to do with that individuals training and development.
Q. What was a difficult time throughout your professional journey that you overcame, and what did you learn from it?
A. The pandemic has been a very challenging time professionally - my position was furloughed for an indefinite time period. It was difficult, because I was in this position that when things get back to normal I was promised my job back. For me it was tough waiting, as I'm a really proactive person and pride myself on doing what I need to do to get where I need to be. I definitely learned about acceptance, and letting go of things I can't control. I also recognized the little things that I can control – like helping some of my former team search for jobs and edit their resumes. In helping others I learned that we are truly stronger together. It also propelled me to take that leap of faith onto a different industry path, and I'm really happy I did.
Q. What is some advice you would give to your younger self just starting out, now?
A. I would say to network as much as you can. Talk to EVERYBODY. Don't be closed off to having conversations or being afraid to ask questions. Always ask questions - I think that's the biggest thing. A lot of younger people have trouble with networking and feel uncomfortable - my advice is to feel uncomfortable and push through because that's where you grow. Usually that's when you learn new things. You might make mistakes but that's ultimately how you move forward.
That concludes part 2 of the Faces of Freed series with Jen...check back next week for the final installment!