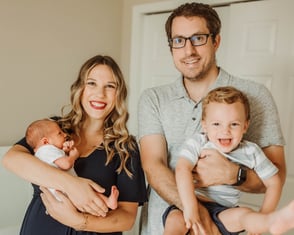 Did you start at Freed right out of college?
Yes, I did! Though the journey was anything but typical. I completed a bachelor's degree in digital arts and then decided to pursue an MBA in accounting as I was looking for a career option with a little more flexibility. While completing my MBA at Niagara University I went through the MAX internship program which led to a full-time offer upon the completion of my degree.

Did you start out in consulting?
I worked in the audit department for about 2.5 years. In May 2018, I had an opportunity to work with the Healthcare Consulting group and eventually moved to that department. In October 2020, I began working with the Business Intelligence group.
What drew you to the consulting side?
After my third busy season, I had an opportunity to work on a consulting project. As time went on and the project went well, the consulting team assessed the need for an additional resource. I've really enjoyed the opportunity to specialize in a specific industry (healthcare) and provide solutions to clients that lead to operational improvements. My favorite part about the job is solving problems through data analytics. It is a rewarding experience to uncover meaningful insights by digging through a vast amount of data. Performing data analysis in the healthcare consulting group played a major role in my transition to the BI group.
Did Freed make the switch easy for you?
Yes – in both cases of transferring to Healthcare Consulting and then transferring to Business Intelligence, the firm was extremely supportive. I am very grateful for the flexibility they have provided me over the years. I feel that Freed has always prioritized my career growth and development.
Can you give some insight into what an average work week looks like for you?
No two weeks are ever the same. However, my typical tasks include working with clients to discuss their needs/wants in a BI Tool, coordinating with our internal team to develop and implement what the client wants and needs, and then maintaining those tools.
How do you feel about working for Freed Maxick?
I am very happy working at Freed Maxick. The two main reasons for that are first the people. I have worked on numerous projects with many different people at Freed Maxick. The common denominator on all these engagements is that the team was great to work with. Second, the variety of the work. I have had the opportunity work on so many different types of projects. Over the years, I have learned so much and these opportunities have undoubtedly helped me grow as a professional.