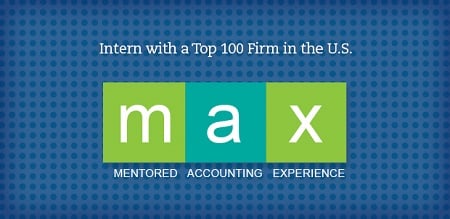 We are now accepting applications for the 2016 Summer MAX (Mentored Accounting eXperience) Internship Program!
Our six-week internship is designed to give students a true feel of a career in public accounting. Our Interns rotate through all of our departments and work on real client engagements. At the conclusion of the program, they know if they are destined for a career in Audit, Tax, Enterprise Advisory Services or Enterprise Risk Management. Regular evaluations provide real-time feedback. Varied assignments offer numerous opportunities to work with our staff, seniors, supervisors, managers, senior managers and directors.
Ideal internship candidates will graduate in 2017 with their BS in Accounting and 150 credit hours, or their MBA or MS in Accounting or Tax. Instructions for application can be found on our website. Some of the things you will need to provide include: a cover letter, resume, transcript, letters of recommendation and a few short essays. A GPA of 3.4 is also required. The deadline to apply is September 30, 2015.
The program is purposefully kept small to give students a quality experience so apply as soon as you can!
If you're ultimately interested in a public accounting career with a large regional firm and a Top 100 firm in the U.S., visit www.freedmaxickcareers.com to learn more about us!