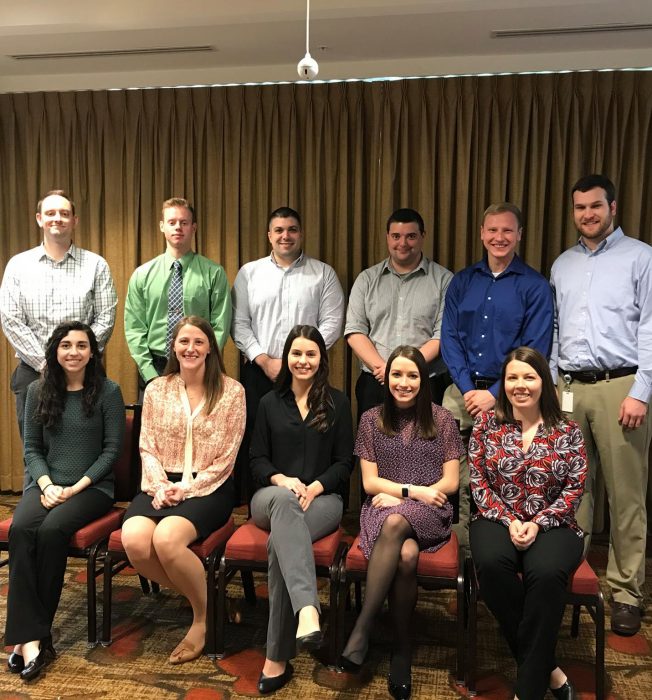 In Part 1 of this blog, I covered the initial steps and basic strategies for passing the CPA Exam early on in your career. In this segment, I will discuss time management, exam strategies and the new format of the exam. In closing, I will review what to look for when choosing a CPA Exam Test Prep Provider.
Let's gets started!
Time Management
The CPA Exam will test not only your technical knowledge of accounting, but your time management skills as well. Time management is perhaps the most important skill you need to pass the CPA Exam. Because the CPA Exam is a timed exam, you not only have to know the content but you must quickly recall and apply that knowledge to complete the exam in the allotted time.
When you first start studying you may spend an average of three minutes on each multiple-choice question. As you grind through the homework and rework the questions, your speed will drastically increase.
Allocating Your Time
This chart is an example of recommended times for each part of the exam (all photos below courtesy of Becker Professional Education).
When progressing through a multiple choice testlet or the task based simulations, go through all the questions methodically and answer those you know for sure on the first pass. Then go back and divide your remaining time among the more challenging ones. Also, if time is about to expire and you still have several unanswered questions, take your best guess. You're not penalized for incorrect answers, so be sure to answer everything!
Each section of the CPA Exam will have 3 task-based simulation testlets and at least one research TBS question in the FAR, AUD & REG sections. A standardized, 15 minute break will be offered after the first TBS testlet, which is approximately the exam mid-point at two hours. In addition, you may choose to take an optional break between any testlets but it will count against the total testing time as the exam clock will continue to run.
Remember you can get partial credit for simulations!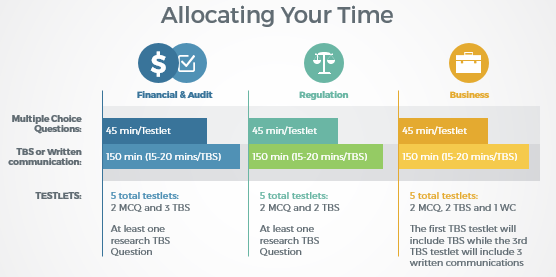 IMPORTANT TIP!
In addition to practice and repetition, one of the best time management tools is to write your time plan on your note board before you begin the exam. If you plan to take a break, also include the break time in your plan.
This image is just an example of a time plan for FAR, but remember the exam uses an adaptive multi-stage testing format. You may want to plan to move more quickly through the first testlet, so that you have more time to tackle the more complicated and point worthy questions that come in testlets 2 and 3.
You will be asked to remove your watch before entering the testing room, so the timer on the computer may be your only time piece; writing your time plan and checking the timer will be essential.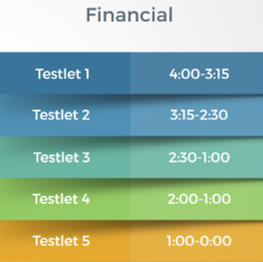 In summary:
When you first begin studying, it will likely take you longer to answer a multiple-choice question. Continued practice of exam-like questions within a simulated exam interface can help you improve your speed.
Write your time plan on your whiteboard during your pre-exam preparations and before you start the exam. Refer to it so you can keep yourself on pace.
Answer the "easy" questions first, flag the others and come back to them.
New CPA Exam Format
If you weren't aware, the CPA Exam's format changed this past April. The focus for the change is to ensure those seeking licensure as a CPA can demonstrate the following:
The knowledge and skills necessary to perform more advanced tasks
The ability to contribute to complex accounting projects early in their careers
Higher order cognitive skills and professional skepticism
To accommodate the testing of higher order skills and more task-based simulations, the exam length increased from 14 to 16 hours.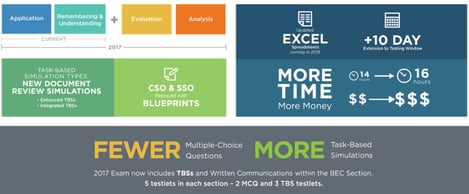 IMPORTANT TIP!
Become familiar with the exam's content. One of the best way to do this is to study the AICPA's CPA Examination Blueprints.
The AICPA publishes the Exam Blueprints, which is an in-depth, section-by-section guide for candidates preparing to test. If you're planning to sit for the Exam, this practice is a must!
How to Choose the Best Study Materials for You
Review materials can come in many forms. The most common being live classes, live online webinars, DVD's, books, and interactive online courses. Because the selection can be overwhelming, it may help to consider how you learn most effectively and then seek out the tools most likely to work.
Visual learners may find that plentiful reading material is useful, as is the ability to highlight important text. Flashcards containing mnemonics or formulas could be especially helpful, as could interactive experiences or chalkboard demonstrations.
Auditory learners might find that listening to podcasts or audiobooks that explain complex ideas is most helpful in retention. Viewing taped lectures may also be useful for auditory learners, especially if it's possible to rewind and replay when necessary.
Hands-on learners benefit most by performing activities that illustrate concepts, and might prefer traditional prep classes that include demonstrations.
In the end, choose a program that will allow you to commit to your study plan. I can't stress enough how important it is to create a plan that's realistic. Whether you prefer to study in the morning, on lunch, or in the evening, it doesn't really matter. Just keep moving forward through the lectures, MCQs, and simulations. You will have to say "no" often to social outings but the whole process is only short term. Make the sacrifice now. Life will only get busier!
In Summary
We've covered a lot in this two part series of "How to Pass the CPA Exam While Working Full-Time" and hopefully I've made the daunting task of passing the exam a bit easier. Remember - the time commitment, effort and barely ever leaving the house, is only temporary. Having the letters "CPA" at the end of your name is permanent. Trust me, get the exam done early and never look back. Good luck!
-Nick Dentice, Career Coach and Recruitment Specialist