Return to Blog
Capitalization vs. Repair Regulations - Accounting Method Changes
Understanding Accounting Method Changes under the New Tangible Asset Regulations (Part 9)
Author: Don Warrant
In December of 2011, the IRS published comprehensive new regulations governing capitalization vs. deductible repair expenditures for tangible property. For many taxpayers this will mean making changes to accounting methods and systems, new tax compliance requirements, new tax planning opportunities, and on a positive note, the chance to expense items capitalized as improvements in prior tax years.
Taxpayers can implement method changes in 2012, 2013 or 2014 according to IRS Notice 2012-73. Therefore, taxpayers should incorporate the method changes provided by the new regulations in their tax planning for 2012, 2013 and 2014.
Highlights
IRS issues two new revenue procedures (Rev. Procs. 2012-19 and 2012-20) that provide taxpayers with automatic accounting method changes under Rev. Proc. 2011-14

provides audit protection for prior years
waived scope limitation for taxpayers under exam, taxpayers who changed accounting methods for the same item in the last five years or in their last year of their business
Overview of method changes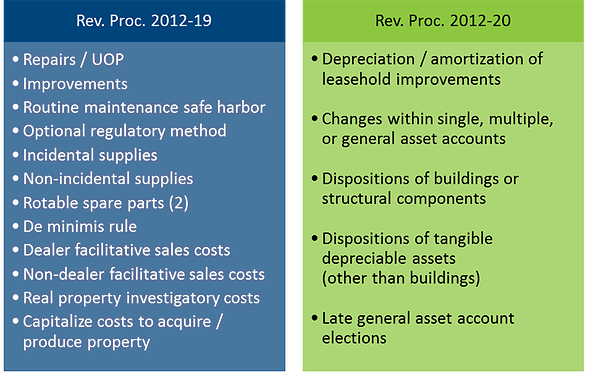 Most changes made with a section 481(a) adjustment
May file single Form 3115 for two or more concurrent changes under the respective procedure
Allowed to make late GAA elections

only

for their first or second taxable year beginning after Dec. 31, 2011
Two year window to accommodate changes!
Our CapX Program
Freed Maxick's integrated team of tax and accounting method specialists, and cost segregation engineers can help you comply with these complicated regulations. We're pleased to bring you FreedMaxick's CapX (Capitalization or Expense) Consulting Service -- a comprehensive program designed to quickly and efficiently bring you into compliance and optimal tax savings. Click here for more information or call Don Warrant at 716-847-2651.
Click here for all the articles in this blog series.