By: Howard Epstein, CPA, Director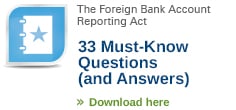 In a recent federal court case, Floridian Mary Estelle Curran pleaded guilty to filing false tax returns for the 2006 and 2007 tax years after maintaining undeclared accounts with banks in Switzerland and Liechtenstein. According to court documents, Curran, a U.S. citizen, maintained the undeclared accounts which were inherited from her husband in 2000. The accounts in Switzerland were held in the names of nominee foreign entities and earned income each year, which Curran failed to report on her 2001 through 2007 individual income tax returns.
According to the plea agreement, in order to resolve her legal responsibility for failure to report her foreign bank accounts, Curran has agreed to pay a civil penalty in the amount of 50 percent of the high balance of the accounts, which equals $ 21,666,929. She also faces a potential maximum prison term of six years, although a sentencing date has not been set.
U.S. citizens and residents and certain nonresidents who have a financial interest in or signature or other authority over any "financial accounts" in a foreign country are required to make a separate filing if the aggregate value of these accounts exceeded $10,000 at any time during a calendar year. Many may not be aware of all of the rules and regulations relating to foreign accounts, and all the more reason to consult with a trusted accountant to help navigate through the very complex system.
From the LexisNexis report detailing Curran's case:

"The Justice Department continues to pursue those who hide income and assets from the IRS through the use of nominee businesses and offshore bank accounts," said Assistant Attorney General Keneally. "U.S. taxpayers who fail to come forward in the voluntary disclosure program risk prosecution and substantial fines, as this case demonstrates."
"U.S. citizens who seek to avoid their tax obligations by hiding income in undeclared bank accounts abroad should by now be fully on notice that they will be held accountable for their actions, both civilly and criminally," said U.S. Attorney for the Southern District of Florida Wifredo A. Ferrer. "The U.S. Attorney's Office is committed to helping the IRS enforce our nation's tax laws."
"Offshore accounts can no longer be used to hide from the IRS and avoid paying the fair amount of tax," said Richard Weber, Chief, IRS Criminal Investigation. "IRS Criminal Investigation is aggressively pursuing tax cheats -- both domestically and internationally. We owe it to every American taxpayer to use all lawful means to identify and prosecute both those who evade their taxes and those who assist them in evading their tax obligations."
Are you affected, might there be penalties and even potential jail time if you don't act? Do you have undeclared foreign bank accounts or questions about the complex IRS tax rules? If so, we can help.
What Should You Do Next?
Please contact a member of our International Tax team. At Freed Maxick, we are poised to assist you in assessing your FBAR filing requirements, assimilating the necessary information and preparing your current and past due FBARs. We also have considerable experience in helping taxpayers that have not been historically compliant to navigate the IRS guidelines and minimize their potential penalties through the various IRS Voluntary Disclosure Programs that have been available.
For a confidential discussion of your FBAR situation, call us at 716.847.2651, or complete and submit this form for more information.