Government expanding crackdown of offshore tax evasion
Author: Howard B. Epstein, CPA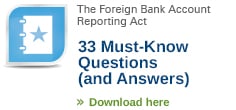 From a recent article in the Wall Street Journal, it's reported that U.S. officials are sending a strong message that offshore tax evasion will not be taken lightly. For those who ignore the complex rules, results can be criminal prosecution, high penalties and even potential jail time.

Check out this startling example, featuring Mary Estelle Curran, a Florida widow and Palm Beach heiress who recently pleaded guilty to using foreign bank accounts to hide more than $43 million from the IRS in one of the largest cases in the continuing U.S. crackdown on offshore tax evasion. The penalties are staggering, but a clear example that the Justice Department and IRS mean business.
From the article: "U.S. citizens who seek to avoid their tax obligations by hiding income in undeclared bank accounts abroad should by now be fully on notice that they will be held accountable for their actions, both civilly and criminally," said U.S. Attorney Wifredo Ferrer of Florida's Southern District.Just take a look below at several related articles on the web, all taking note of increased levels of scrutiny and amplified preparation of tax-evasion cases.
5 European Nations Agree to Help U.S. Crack Down on Tax Evasion

Tough US crackdown on tax evaders forces Swiss bank to shut down
U.S., Switzerland agree to crack down on tax evaders
Might you be affected?
Foreign Bank Account Report | FBAR- U.S. citizens, residents and certain nonresidents who have a financial interest in or signature or other authority over any "financial accounts" in a foreign country are required to make a separate filing if the aggregate value of these accounts exceeded $10,000 at any time during a calendar year. The complex rules may be hard to make sense of unless you have a trained international tax professional assisting you.
On the positive side, the IRS has provided potential relief from some of these harsh penalties under the 2012 Offshore Voluntary Disclosure Initiative as well as the Streamlined Program. If a taxpayer comes forward under one of these programs BEFORE the IRS contacts them, they may be able to avoid some or all of the penalties discussed above.

Freed Maxick International tax practice professionals are poised to assist clients who need help. We can assess FBAR filing requirements, assimilating the necessary information, and prepare current and past due FBARs. We also have considerable experience helping taxpayers that have not been historically compliant, and can navigate the IRS guidelines and minimize potential penalties through the various IRS Voluntary Disclosure Programs available.
Feel free to contact us to learn more about how we can help!