SWOT Analysis Looks at Borrowers' Strengths and Weaknesses
Author: Paul R. P. Valera, CPA, MBA, Senior Field Examiner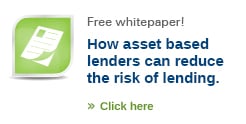 The best lenders understand the strengths, weaknesses, opportunities and threats (also known as "SWOT") of their clients and prospects. The analysis can also play a critical role in due diligence, in addition to assisting borrowers identify opportunities to make improvements or better respond to external threats.
Here's how a client's SWOT analysis can asset based lenders make better lending decisions.
Unearthing the source of each strength
A SWOT analysis begins with identifying strengths and weaknesses from your customers' perspective. Strengths typically represent potential areas for building value and boosting revenues. These may be competitive advantages or core competencies. Examples might include a loyal customer base, a strong brand image, or an established customer list.
It's critical to unearth the source of each strength. Some are tied to the company's owners or key employees, such as an older partner with influential standing in the business community and an impressive client list. This is especially common among professional practices, such as accounting, advertising or law firms. But retailers and manufacturers may rely on key people, too.
When strengths are tied to people, rather than the business itself, you need to consider what might happen if a key person were to suddenly leave the business. Ask whether the borrower has non-complete contracts, key person life insurance, a buy-sell agreement, or a formal succession plan to transition management to the next generation.
Weaknesses represent potential risks and should be eliminated or minimized. Often they are evaluated in relation to the company's competitors. Weaknesses might include weak internal controls, high employee turnover, unreliable quality or a location with poor accessibility.
Of course, all businesses have an Achilles' heel. But when a borrower reports the same weaknesses every year, it's cause for concern. It's not enough to simply recognize a weakness — the borrower needs to take corrective action.
For example, one borrower decided to boost its weak sales force with a headhunter to acquire new talent, Dale Carnegie sales training classes to inspire the staff, and a new-and-improved commission structure. Within just a few months, the business's year-to-date sales were up 35%. And the borrower now lists its salesforce as a strength, not a weakness.
Looking outside
The second part of a SWOT analysis looks externally not only at what's happening in the industry, but also with the economy and regulatory environment. An opportunity could be favorable external conditions that might increase revenues and value if the company acts on them quickly.
For example, a pharmaceutical company responded to emerging health care legislation and the aging baby boomer demographics by purchasing smaller medical device and generic drug manufacturers. Both the acquirer and its targets have acted on favorable external opportunities with a roll-up to improve their financial positions.
As you can imagine, threats are unfavorable conditions that can prevent an unwary borrower from achieving certain goals. Threats arise from the economy, competition, technological changes and increased regulation. It's critical to watch for and minimize any existing and potential threats.
Hospitals and doctors, for example, are keeping a close eye on health care reform legislation, because it threatens to lower their billing and collection rates from private and public sources. Many physicians are banding together to improve bargaining power and achieve economies of scale.
How about your customers?
If your customers haven't completed an in-house SWOT analysis, it's time to do it. SWOT is a proven management tool that's been taught at business schools around the world. Strong borrowers will say "yes!" immediately and discuss the results. But you may need to encourage your weaker, less experienced borrowers to tackle the analysis. The end result, however, will enlighten them.
A SWOT analysis is typically presented as a matrix (see the chart), and provides a logical framework for understanding how a business operates. It can not only tell what a borrower is doing right (and wrong), but it can predict how outside forces can impact cash flow in a positive (or negative) manner.
SWOT matrix
| | | |
| --- | --- | --- |
| | Positive | Negative |
| Internal | Strengths | Weaknesses |
| External | Opportunities | Threats |
Business owners love their work and typically don't want to hear that their businesses aren't operating at peak performance. So, if you have concerns about a risky borrower, suggest they do a SWOT analysis. It can be an objective forum for discussing sensitive or negative issues.
Don't put it off
As you know, due diligence can be a daunting task. And no single approach works for every customer. But a well-executed SWOT analysis can provide a method to the madness.
If you have any questions about SWOT analysis or any other asset based lending issue, give us a call at 716.847.2651, or you may contact us here.