Best Practices in the Prevention and Detection of Borrower Fraud!
Mike Boeheim, CIA, CFE and Director at Freed Maxick ABL Services will take part in the upcoming Fraud Awareness Workshop presented by the CFA on April 17th-19th.

The event is a three-day program presenting best practices in the prevention and detection of borrower fraud while also recommending fraud prevention procedures for a variety of ABL disciplines. Reinforcing each learning point through numerous case studies, the goal of the program is for participants to understand their roles in mitigating the risk of fraud within their organizations.
This is a must attend for any staff member seeking to minimize their institutions' fraud risk.
Program Times:
Wednesday, April 17: 8:30 a.m. - 5:00 p.m.
Thursday, April 18: 8:30 a.m. - 5:00 p.m.
Friday, April 19: 8:30 a.m. - 1:00 p.m.
Continental breakfast will be served each day beginning at 8:30 a.m. The program will begin at 9:00 a.m. Lunch will also be provided each day.
Program Level: Intermediate

April 17 - 19, 2013
Event Start Time: 8:30 a.m.
Troutman Sanders, LLP
The Chrysler Building
405 Lexington Avenue
New York, NY 10174
Follow links to Register or for more information
Member: $745
Non-Member: $945
---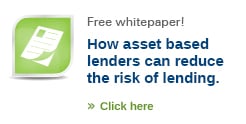 To gain more insight into fraud and Asset Based Lending issues, check out related blog posts on our "Summing it Up" blog. You can also get a free copy of the keynote presentation delivered at the Commercial Finance Association Fraud Awareness Program Workshop.
We're pleased to offer a complimentary copy of this valuable resource.
Inside includes:
11 common fraud schemes

Critical management pressure points that lead to fraud

6 red flags that every asset based lender needs to be on the lookout

Recognizing irregularities in source documents, accounts payables and financial statements

9 common inventory fraud schemes and deterrents
For information about our ABL Services team and related services,
check us out on the web.