The Energy Policy Act of 2005 created a tax deduction for constructing energy efficient buildings. It is important to note that this is a tax deduction and not a tax credit. This deduction reduces the taxable income for the year while a tax credit is a dollar for dollar reduction in taxes owed. The full tax deduction is available to owners of both new and existing commercial buildings in which the installation of interior lighting system, HVAC system, and building envelope which reduce the total annual building power and energy costs by 50% or more as compared to ASHRAE 90.1-2001 minimum requirements. Benefits are available for new construction or improvements placed into service from 2006 thru 2013. Taxpayers can use IRS form 3115 to catch up on all missed 179D deductions back to 2006.
Who qualifies for this tax deduction – Taxpaying entities that has performed:
New Construction

Remodels, upgrades, and expansions of existing buildings

Tenant owned leasehold improvements
The three areas that qualify are lighting, HVAC, and building envelope. The deduction ranges from $0.30 to $1.80 per square foot.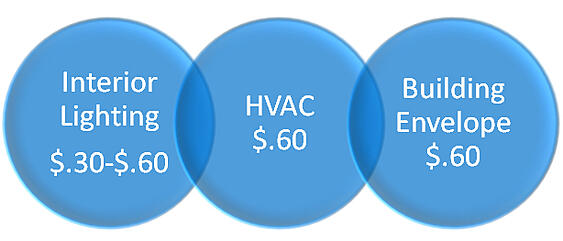 A building does not have to qualify for all three pieces to receive a deduction.




What is it worth?
As noted in the table above the ROI for this tax deduction can be substantial. If you or your clients have built a new building or made improvements to an existing building contact us. We have the knowledge and experience to guide you through this process.
CSP 360 is one of the nation's leading providers of cost segregation and consulting services to real estate owners. As part of every cost segregation study we offer the following services: State & Federal Tax Credit Review, Fixed Asset Analysis and Section 179D Analysis. CSP 360 also assists accountants and CPA firms in providing services to their qualified clients who have constructed, purchased, expanded or remodeled real estate.
Our philosophy is to offer clients an experienced team of professionals who take a 360 degree view of a taxpayer's assets. This helps our team identify credits and incentives that the taxpayer may benefit from. To learn more about our unique approach click here.
Who qualifies and how it works