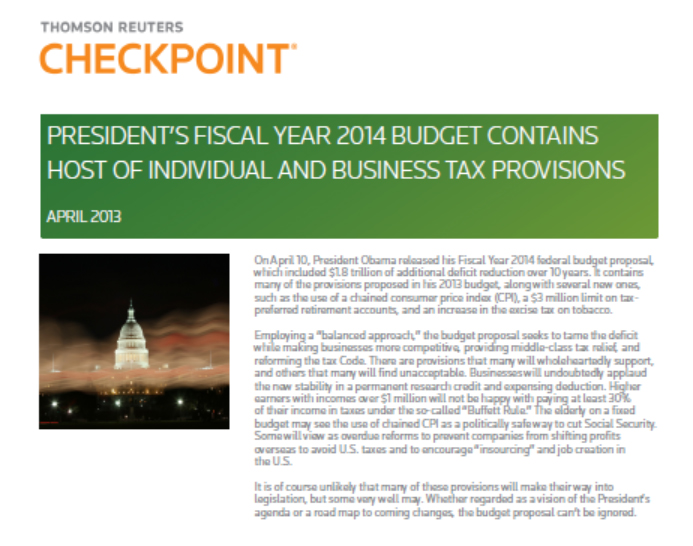 From the Thompson Reuters report," On April 10, President Obama released his Fiscal Year 2014 federal budget proposal, which included $1.8 trillion of additional deficit reduction over 10 years. It contains many of the provisions proposed in his 2013 budget, along with several new ones, such as the use of a chained consumer price index (CPI), a $3 million limit on tax-preferred retirement accounts, and an increase in the excise tax on tobacco.
Employing a "balanced approach," the budget proposal seeks to tame the deficit while making businesses more competitive, providing middle-class tax relief, and reforming the tax Code. There are provisions that many will wholeheartedly support, and others that many will find unacceptable. Businesses will undoubtedly applaud the new stability in a permanent research credit and expensing deduction. Higher earners with incomes over $1 million will not be happy with paying at least 30% of their income in taxes under the so-called "Buffett Rule." The elderly on a fixed budget may see the use of chained CPI as a politically safe way to cut Social Security. Some will view as overdue reforms to prevent companies from shifting profits overseas to avoid U.S. taxes and to encourage "insourcing" and job creation in
the U.S.

It is of course unlikely that many of these provisions will make their way into legislation, but some very well may. Whether regarded as a vision of the President's agenda or a road map to coming changes, the budget proposal can't be ignored."
To learn more and gain access to the full report, click HERE.