By: Mary Lindsey
Operating a business is much like taking a road trip. There are things you need to plan for; check lists have to be created, packing that needs to be done, making sure your vehicle is in working order. These are all primary steps when planning a road trip. Businesses "should" operate in much the same way- but you'd be surprised at just how many small and midsize companies don't have a "road map" to guide them through the bumps and detours that come up along the way. Having detailed business plans can help improve the odds that your clients will arrive at their destinations on time and on budget.
Creating a business plan
Business plans offer investors and lenders an assessment of current operations, as well as a "game plan" for the future. Such plans typically include an executive summary, industry and market analysis, and business and management team descriptions; then there are the implementation plan and financials.
A small or midsize company might put up a fuss at the thought of compiling a comprehensive business plan, but they're critical when a business is in financial trouble or needs financing for a major capital expenditure. Believe it or not, the best plans are the simple ones. For example, an executive summary can be as short as a paragraph. A long-winded plan tends to bury management's message.

For small clients, an executive summary shouldn't go beyond one page, and the overall length should be less than, say, 40 pages.
Exploring the executive summary
While executive summaries are often the first place a lender looks, they're usually the last page that management should write. Instead, clients should approach a business plan like they would that road trip. Think of a destination first and then map out the best route.
In the same way, business planning should start with a long-term vision. This vision should describe where the company is now and where it wants to be in three, five or 10 years. Thus, it's best to start with historic financial results and then identify the key benchmarks that the management team wants to achieve. These assumptions will literally drive the financials.
Reviewing budgets and projections
Lenders should take a close look when reviewing the financials section of the business plan. Management's goals are fleshed out in its financial and budget projections.
For instance, suppose a company with $5 million in sales in 2012 expects to double over the next five years. How will the client get from Point A ($5 million in 2012) to Point B ($10 million in 2017)? There are many ways to reach the desired destination.
If the management team decides to double sales by hiring five new salespeople and acquire the assets of a bankrupt business, then this "plan" is what will help drive the balance sheet, projected income statement, and cash flow statement.
When projecting the income statement, management should make assumptions about its fixed and variable costs. Direct materials are usually considered variable. Rent and salaries are generally fixed. But there are many fixed costs that can be variable over the long term. Consider rent, for example. Once a lease expires, management can then relocate to a different facility to accommodate changes in size.
A client's balance sheet items — inventory, receivables, payables and so forth — are typically expected to grow in tandem with revenues. Management will make assumptions about its minimum cash balance and then debt will increase or decrease to keep the balance sheet balanced. In other words, your institution will be expected to fund any cash shortfalls that might take place as the company grows.
The financials provide an outline of how much financing the borrower will need, how it will use those funds and when the client expects to repay its loans. It's your job, as the lender, to assess whether the client's plan is realistic.
Understanding the internal and external environment
The rest of the business plan describes your borrower's external and internal environment. It can be highly informative reading material, even if you think you already know your existing borrower. These sections indicate that the management team has done its market research and performed a risk analysis — and that they truly understand the marketplace.
Bring in an expert
No one should drive cross-country without a GPS or a map. Drivers need to know exactly where they are, and how close they are to their destination.
When clients are proactive, rather than reactive, they're more likely to reach their destination. Business plans can play a huge role for lenders who want to understand their borrowers' goals and financing needs.
A CPA can't demand a business plan from a client, and unless the client initiates the plan, it will likely fail. But working with an experienced outside advisor can help the client's management team crunch the numbers, stay focused, and serve as devil's advocate when preparing the plan.
Sidebar: Evaluating a company's management team
Typically, lenders will go right to the executive summary and financials. But, in reality, the most important section from a lender's perspective is the management team description. Get to know every member on the company's management team and how each one fits into the mix.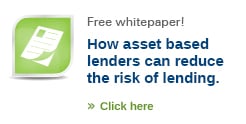 Be sure to identify people that would likely be hard to replace, and then discuss ways to make the borrower less dependent on these "key" people. It's also critical to be realistic about how far entrepreneurs can stretch. At some point, many borrowers will outgrow their founders and require a professional management team.

Freed Maxick's Asset Based Lending division is one of the nation's largest providers. Contact us for more information about our services and how we can assist you.