By: Jennifer Birkemeier, CPA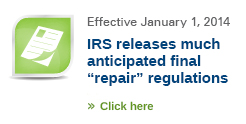 With new temporary treasury regulations on repairs and maintenance costs, there will be requirements on capitalizing or deducting the cost of such repairs and maintenance.
How does this affect taxpayers?
It is the responsibility of the taxpayer to ensure compliance with the temporary regulations. It also means the taxpayer will be responsible for adhering to the regulations for taxable years beginning on or after January 1st, 2014.
What is the benefit for taxpayers?
There has been a lot of feedback regarding the amount of time that is required to comply with the regulations and concern that the time spent will not result in reduced tax burdens for taxpayers. Recently CSP360 sponsored the inaugural AICPA Global Hospitality Conference where Mark Barbour presented updates on the repair regulations focusing on 263(a). The repair regulations will impact all industries requiring accounting method changes that may have favorable taxpayer consequences. Some of the hidden tax benefits for taxpayers that were highlighted at the AICPA conference include:
Segregating the cost of structural components of buildings that were disposed of in prior years
Identifying expenditures in prior years or current years that do not constitute improvements to buildings or building systems and can be expensed as repairs
Reviewing the results of a prior year cost segregation study to identify dispositions of 1245 property
Identifying the cost of removal of a structural component not subject to capitalization under 263A
To segregate the cost of the eight building systems for purposes of applying the improvement and disposition rules under the final regulations
How are expenditures treated?
When capitalizing expenditures, the amounts paid fall into one of two categories:
Amounts paid to acquire or produce tangible property, or
Amounts paid to improve tangible property.
Generally capitalized costs include invoice price, transaction costs, and costs for work performed prior to the date the property is placed in service by the taxpayer. If the taxpayer is improving or "bettering" the real or personal property amounts that must be capitalized include correcting a material defect of the property, physical enlargement, expansion, or a material increase in capacity, productivity, or efficiency of the property. A taxpayer must capitalize costs that restore a unit of property to like new condition after the end of its class life. Costs incurred to adapt a unit of property to a new or different use must also be capitalized.
A Cost Segregation Analysis includes a thorough review of the property to properly depreciate the assets and accelerate tax deductions. These analyses include an intensive review of all blueprints and site visits to verify the assets and determine the quality of those assets. The professionals performing these analyses have an intimate knowledge of the building and building systems and provide valuable insight when examining repair and maintenance costs to determine if they must be capitalized or if they can be expensed.
Contact Us
CSP360 is a subsidiary of Buffalo, NY based Freed Maxick, CPAs a Top 100 accounting firm and one of the nation's leading providers of Cost Segregation and consulting services. Our philosophy is to offer clients a 360 degree view of a taxpayer's assets; pairing engineering and LEED specialists with accountants for a truly unique tax advisory team. Since 1995, our in house team has provided specialty studies to CPAs in a private label arrangement. Products include Cost Segregation, 179D Energy Studies and 263a. CSP360 is Circular 230 compliant and has proven methodologies that are sustainable on IRS examinations. To learn more about our unique approach click here.