Author: Mike Boeheim
Protect Your ABL's Assets by Helping Your Clients Recognize and Stop Internet Fraud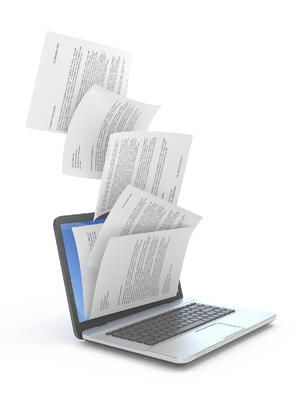 As people flock to the Web to make purchases, they risk being snared by Internet fraud. Asset based lenders need to be aware of the latest scams that could affect your customers and impair debt service.
Popular Fraud Tactics
As you can imagine, cybercrime can take many forms, such as credit and debit card fraud, mobile phone transaction fraud, pay-per-click (PPC) scams, and, of course, identity theft.
Fraudsters can get very creative when "trolling" the Internet for opportunities. For instance, some might use malware to collect credit card information from unsecured merchant websites. PPC fraudsters also cause unsuspecting merchants to incur charges every time customers click on their ads. Then they redirect the customers to their website, thereby "stealing" the sale.
Help Your Clients Stop Internet Fraud
Determine whether your clients are taking appropriate steps to protect themselves against Internet fraud. Ask whether they're analyzing transactions and identifying which are at a higher risk for cybercrime. Some examples of online order form red flags include customers who use drop shipment forwarding addresses, or post office boxes and payments split between multiple debit and credit cards. All of these can signal the use of stolen cards.
According to a survey by technology provider FIS's ClearCommerce®, an e-payment processing and fraud prevention service;
other warning signs you need to be aware of include differences between billing and shipping addresses, the country of the billing and IP address, or the area code and the billing ZIP code. International shipping addresses — especially those in former Eastern Bloc countries or the Middle East may be suspect, Of course, just the existence of a red flag doesn't mean that fraud has taken place. But it does mean that borrowers should take a closer look at the potentially high-risk order before processing it.
Asset Based Lenders Need to do Due Diligence too
As part of your due diligence, ask your clients whether they've taken steps to secure their IT against fraud. Transaction screening software can take a lot of the guesswork out of identifying these high-risk transactions. Another security measure you should pass along to your clients is to couple automated address verification services with card security code systems. This will not only verify the cardholder's address, but also crosscheck the security code on the back of the card.
All borrowers should employ and maintain encryption codes, antivirus software, firewalls, and operating system and browser updates. By taking these measures, the client will be protected on the merchant side, as well as when ordering for its own materials, downloading, or sharing information with any supply chain partners.
Don't go it alone
Of course, maintaining secure, efficient computer systems can be quite daunting and way outside the bailiwick of most entrepreneurs. So, if one of your borrowers simply can't afford a dedicated IT professional, a CPA can help them tackle the cybercrime prevention tasks mentioned above on an as-needed basis.

Freed Maxick' s Asset Based Lending Team works with dozens of asset based lenders across the country. We can assist you in evaluating the integrity of your customers' collateral by performing pre-loan surveys and rotational collateral monitoring field examinations.
Freed Maxick also provide specialized forensic accounting services.
If you or your clients need assistance in fraud detection, prevention or remediation, contact us, or call me directly at 716-847-2651.