An Example by the Numbers
What an IC-DISC can do for your business
IC-DISC shareholdings can be used in a number of ways to help achieve business goals and objectives.
Permanent tax savings on global sales
Permanent tax savings begins with the exporting company deducting the commission it pays to the IC-DISC from its ordinary income, which is taxed at 35 percent. Tax law sets the commission rate, which is based on export sales revenue, as the greater of either 50 percent of net income or 4 percent of gross income. Because the IC-DISC is tax exempt, tax is paid only on distributions to shareholders. Individual and pass-through company shareholders pay income tax on dividends at the capital gains rate of 15 percent.

The following example illustrates how a 20* percent tax rate arbitrage creates a permanent tax benefit of $160,000 on a commission of $800,000: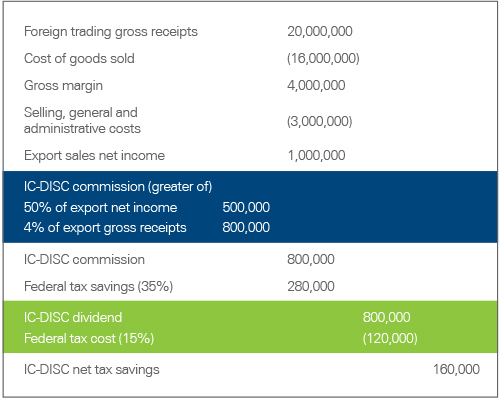 Freed Maxick's International tax team helps companies all over the U.S. implement and administer the IC-DISC. To learn more about how we can help you navigate the complexities of international tax, contact us to speak with one of our experts.
*Results may vary depending on the corporate and individual rates applicable to you.