A recap of Freed Maxick Healthcare's latest event and a look at key industry trends
With the rapidly transforming healthcare industry, Freed Maxick recognizes that technical capabilities and practical knowledge are only part of the bigger picture. Extensive knowledge of financial, clinical, regulatory and operational matters is essential for leadership to navigate the complexities and communicate with key stakeholders. Our dedicated Healthcare Practice makes it a priority to be aware of the latest industry trends and to identify and predict best practices that will provide the greatest value-add for both the client and the population cared for.
The ability to educate our clients on the latest information industry trends is a key differentiator and is among the top reasons we have earned the trust of our clients. A great example: in mid- November, the team held an interactive panel discussion on transforming our healthcare system featuring three prominent local industry thought leaders covering three prioritized health agendas. This panel discussion helped attendees gain important insight into the changing market.
Moderated by myself, Carol Cassell, a Principal in Freed Maxick Healthcare's Strategy & Performance Improvement practice, the event panel included Dr. Michael Edbauer, DO, MBA, Chief Medical Officer, Catholic Medical Partners, Mike Mancuso, Associate Partner, Lawley Benefits Group, and Ann Monroe, President, Health Foundation for Western and Central NY.
Some of the best insight we have to share stems from the organic conversations that unfold during events such as this. Panel trends and topics included:
Positioning for the future: population health management

The changing health insurance market

Health insurance benefit plans: What has changed?

Community health

Medicaid \ Medicaid redesign

Living in a world of volume- and value-based revenue

Alignment and integration: strategies, tactics and real life lessons learned

Data: The new asset for decision making and performance management implications
Event guests experienced the professional, and sometimes very personal, insights of our panelists who have deep knowledge of different facets of the healthcare system. Ann Monroe discussed patients' desire for a more personal and holistic treatment experience. Community health programs becoming the epicenter for holistic treatment with a person- and patient-centric approach, with Dr. Edbauer discussing certain model programs in New York State. Lastly, there was a great deal of discussion focused around consumers taking a more proactive approach to their healthcare. Mike Mancuso discussed how employers are increasingly incentivizing their staff to make smarter choices.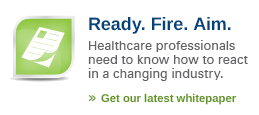 In addition to the topics and trends covered at our panel event, Freed Maxick's Healthcare team has developed a helpful resource for those interested in a deeper dive; taking a look at how healthcare professionals can lead in a changing industry.
Our
"Ready. Fire. Aim" whitepaper
covers insightful topics including:
Transformation of our health care system, a system wide culture change
Achieving a high performing health system
To learn more, click on the links or graphic above to get the whitepaper download today, and keep up with the latest healthcare industry news and trends right here on our Summing it Up blog.