By: Don Warrant, CPA Director
On February 5th, 2014, Governor Andrew M. Cuomo announced the largest business competition in the United States; "43North". The competition—named after the latitudinal line that runs through Western New York—features $5 million in cash prizes, with a top prize of $1 million. The competition is part of Governor Cuomo's Buffalo Billion initiative.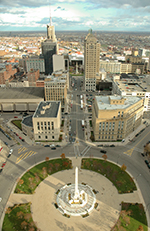 43North is designed to systematically generate new business ventures in Western New York while providing mentoring and other aid for aspiring entrepreneurs, supporting early-stage firm growth and attracting additional venture funding. The objective of this bold and proven approach is to position Upstate New York and the Greater Buffalo Niagara region squarely on the map of America's newest innovation and entrepreneurship hotbeds.
In addition to the top cash prize of $1 million, 43North will award six $500,000 prizes and four $250,000 prizes. Winners also receive free incubator space for a year, guidance from mentors related to their field, and access to other exciting incentive programs, like Start-Up NY.
43North is open to applicants ages 18 and over from anywhere in the world in any industry, with the exception of retail and hospitality. Winners must agree to operate their business in Buffalo, New York for a minimum of one year.
The competition will be broken down into three rounds, with each round being judged independently of one another.
· Round 1 (February 5 – May 31, 2014): applications from prospective businesses will be accepted via the competition's website, 43North.org. The purpose of Round 1 is for applicants to provide a vision for their venture, including their business concept, target customers, industry overview, competitive landscape, and revenue potential. This submission is not intended to be as comprehensive as a detailed business plan, but should provide the judges with a summary of the major elements of the venture.
· Round 2 (September 15 – September 20, 2014): the semifinalists will present further detail on their plan, along with a 10-minute online presentation to 43North's judging panel, followed by 10 minutes of questions. The plans put forward in Round 2 will include the venture's business concept, value proposition, competitive analysis, communication and distribution channels, client relationships, key stakeholders, resources and activities, cost structure, revenue streams, and financial considerations.
· Round 3 (October 27 – October 31, 2014): the final stage of the competition is for finalist teams to pitch their business in person to a panel of judges in Buffalo. Each team will have 10 minutes to sell their business idea, followed by 10 minutes of questions. Teams will be assessed on overall organization of the presentation; the team's ability to "sell' the idea and need for the company; the team's ability to defend the plan and be responsive to questions; and the quality of the overall plan. The competition concludes with the selection of winners and celebrations.
Deadline for submissions is May 31st, 2014.
If you have questions regarding the 43 North Global Business Plan Competition please visit their website here: http://www.43north.org/43north-hits-the-road-to-promote-business-plan-competition