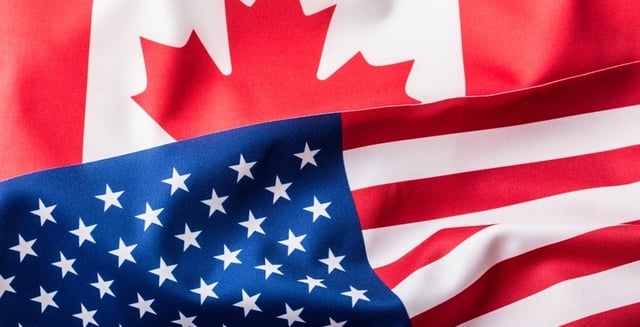 Avoid potential tax ramifications in both the U.S. and Canada.
The United States has some mechanical rules for determining if one will be considered a resident for tax purposes.
Two Ways You Could Be a U.S. Resident
First, if you receive a Green Card, you will be granted the privilege of residing permanently in the U.S. as an immigrant. This will continue until either you surrender your Green Card or immigration authorities revoke it. As long as you hold a Green Card, you are required to file U.S. resident tax returns.
The second qualifying condition is if you meet the Substantial Presence Test. This is basically a 183-day of presence in the U.S. test—however, it's cumulative. You are considered a resident if you are physically present in the U.S. for at least 31 days in the current year, and the sum of the days in the current year plus 1/3 of the days physically present during the first preceding year, plus 1/6 of the days present in the second preceding year exceeds 183 days. (There are certain situations that allow an exemption of days for students, those in transit, commuters, and days spent for medical purposes.)
You must file a Form 8840 or Form 8843 and either attach it to your 1040NR or you may file it alone. These forms will exempt a non-U.S. citizen who meets the substantial presence test from being treated as a resident. They cannot be used by a Green Card holder.
There are also Treaty Tie Breaking Rules. Under Article IV of the U.S./Canada Treaty, there are several steps that you can follow to establish that even though you are present in the U.S. for over the required number of days, you actually have a closer connection to Canada. You must file a Form 8833 and disclose your position.
Now What?
If it is determined that you are a resident of the U.S. for tax purposes, you will be taxed on Worldwide Income, regardless of where it is earned. You will also be required to file any of the Foreign Reporting Forms required of U.S. persons, such as FBARs, and Forms 8938, 5471, 8865, 8621, and 3520, to name a few.
If you are determined to be a non-resident, you are taxed on U.S. Source Income only. However, if you are taking a Treaty Position to be taxed as a non-resident, you are still required to file all of the reporting forms as named above.
Canada also has established consequences for being out of the country for too long. The Entry-Exit Initiative was due to be implemented June 30, 2014. This does not have a temporary stay at the moment. Under the Initiative, travelers will be required to swipe their passports upon entering and leaving each country. Canada and the US will share this information. Both countries remain dedicated to full implementation of the Initiative.
When fully implemented, this Initiative would allow both countries to be able to track, in real-time, the number of days actually spent in each country. All days are counted in this total, including days for work, vacation, and day trips for shopping or entertainment.
Once a Canadian resident loses his resident status, he is deemed to have disposed of his assets, which may generate a large tax bill. They may also risk the loss of the entitlement to Provincial Health Care. The time period out of the country depends on your Province of Residency.
In addition to being deemed a U.S. Resident for Income Tax purposes, a person's estate could also become liable to U.S. Estate tax.
A Word to the Wise
Use extreme caution on counting the number of days of presence in the U.S. Generally, snowbirds should not extend their time past 120 days per year. Under the cumulative test, 120 days consistently will bring you to 180 days over a three year period. You do not want to risk consequences from either country by exceeding this number.
Contact Freed Maxick's International Corporate Tax Services professionals to discuss your specific situation and avoid unexpected tax liabilities, or call to speak with an individual directly at 716.847.2651.