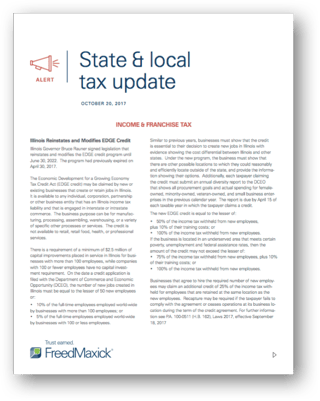 The latest Freed Maxick State and Local Tax Update contains a number of must-read items from around the country.
Illinois economic development: Legislation has reinstated and modified the EDGE credit program until June 30, 2022. The Economic Development for a Growing Economy Tax Credit Act (EDGE credit) may be claimed by new or existing businesses that create or retain jobs in Illinois. It is available to any individual, corporation, partnership or other business entity with an Illinois income tax liability and that is engaged in interstate or intrastate commerce. The business purpose can be for manufacturing, processing, assembling, warehousing, or a variety of specific other processes or services. There is a requirement of a minimum of $2.5 million of capital improvements placed in service in Illinois for businesses with more than 100 employees, while companies with 100 or fewer employees have no capital investment requirement. See the Update for a list of further conditions.
Rhode Island tax amnesty: The state's budget bill, signed by Gov. Gina Raimondo, included a provision for the establishment of a tax amnesty program for all taxpayers owing tax. From Dec. 1, 2017 to Feb. 15, 2018, all late-filing penalties will be waived and participants will only be required to pay 75% of the interest accrued on late filings. The state will not pursue criminal or civil prosecution against any taxpayer under this program, assuming the taxpayer has either paid or entered into an installment payment agreement to pay all taxes and interest due.
Virginia amnesty: The state allows eligible taxpayers relief for delinquent returns filed from Sept. 13 through Nov. 14 this year. Taxpayers will have to pay the tax due and one-half of the interest. At the end of the amnesty, taxpayers with unpaid taxes that were eligible for relief and did not participate in the program will be subject to an additional 20% penalty.
Hurricane filing-deadline relief: In wake of the recent hurricanes such as Harvey and Irma that struck the southeastern U.S., many states are providing tax relief for taxpayers residing in areas designated as disaster areas by the federal government. In general, most states are extending deadlines to Jan. 31, 2018, for tax returns that had original or extended due dates between Sept. 4, 2017 and Jan. 31. Florida and Virginia have later extension deadlines of Feb. 15 and March 2, respectively. Some states provide additional specifications for taxpayers seeking relief. See Update for more details.
Other news: The Oklahoma Tax Commission has adopted changes to sales and use tax rules; the South Dakota State Supreme Court rejects the internet tax law; the Multistate Tax Commission has extended the deadline for the voluntary disclosure initiative for online marketplace sellers; Illinois legislation was passed that authorizes the state's Department of Revenue to exchange personal
income tax return information with the State Treasurer's office; and drastic changes are made to the Illinois unclaimed property law.
See the State and Local Tax Update here to learn more or contact a member of the Freed Maxick SALT Team for a no cost consultation.