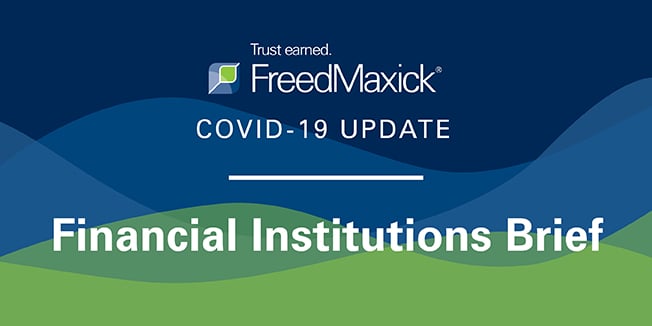 While we are all familiar with the Paycheck Protection Program (PPPLF - a loan facility created by the Federal Reserve under the CARES Act), the Federal Reserve Bank of Boston will administer the Money Market Mutual Fund Loan Facility (MMLF) approved by the Treasury. This fund is to offset the pressure on money market fund redemption requests from clients to meet immediate cashflow needs. You may remember that the regulators effectively waived Reg D penalties for customers' making more than the allowed six (6) preauthorized withdrawals per month.
Under the MMLF, the Fed will make non-recourse loans to banks to purchase assets from money market mutual funds. These assets are then posted as collateral to the FRB Boston account. PPPFL loans to covered institutions are also made as non-recourse.
Regulators are concerned, that under current rules, liquidity measures could destabilize due to the potential volatile cash flow effects of making and purchasing these loans and taking the underlying notes and accounts as collateral.
Absent the interim final rule, under the Liquidity Coverage Ratio (LCR) rules, covered companies would be required to recognize outflows for MMLF and PPPLF loans with a remaining maturity of 30 days or less and inflows for certain assets securing the MMLF and PPPLF loans. As a result, a covered company's participation in the MMLF or PPPLF could affect its total net cash outflows, which could potentially result in an inconsistent, unpredictable, and more volatile calculation of LCR requirements across covered companies.
With that in mind, Federal regulators announced additional rules surrounding the LCR due to participation in the Federal Reserve's Paycheck Protection Program Loan Facility (PPPLF) and MMLF. Basically, "Covered Federal Reserve Facility Funding" and the assets securing such funding are excluded from the calculation of a covered company's total net cash outflow amount as calculated under the new LCR rule, notwithstanding any other section of the LCR rule. Advances made by a Federal Reserve Bank under the MMLF or the PPPLF are not assigned an outflow rate under and any collateral securing such an advance are not assigned an inflow rate under the new LCR rules.
The agencies have used an administrative procedure to make the rule effective immediately, but comments on this rule are still requested and are required within 30 days. The agencies invite comment on the advantages and disadvantages of neutralizing the effects of participating in the PPPL and MML Facilities on liquidity ratios.
See the full test here:
https://www.federalreserve.gov/newsevents/pressreleases/files/bcreg20200505a1.pdf
If you wish additional guidance, we are available to discuss your issues and concerns. Connect with us here or call Freed Maxick at 716.847.2651. Please keep in mind that due to the quickly changing nature of the COVID-19 pandemic, you should always discuss changes with your Freed Maxick advisor or legal counsel.