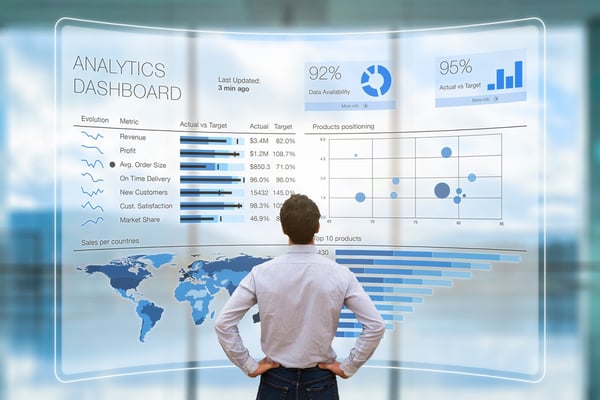 An overview of business intelligence technology, skill sets and processes that turn data into insights and insights into actions.
For the past several years, business intelligence has consistently been identified by executives as a top 3 initiative for their organization.
They're looking to data to identify opportunities to optimize efficiency, reduce waste, mitigate risk, improve revenue (or collect more of what is owed to you), reduce overtime costs, and identify the most profitable customer relationships.
The road to fully functional, well received and highly impactful business intelligence capabilities is a "just right" combination of skilled human resources, processes, and sophisticated technology/software for mining, monitoring and reporting on data trends.
That combination needs to include management action for turning mined data insights into actions and measurable improvements.
For organizations looking to make an investment in business intelligence (or for those looking to upgrade their existing resources and technologies), this blog can serve as an overview for the key components you'll need to ensure that you'll get the return on investment you seek.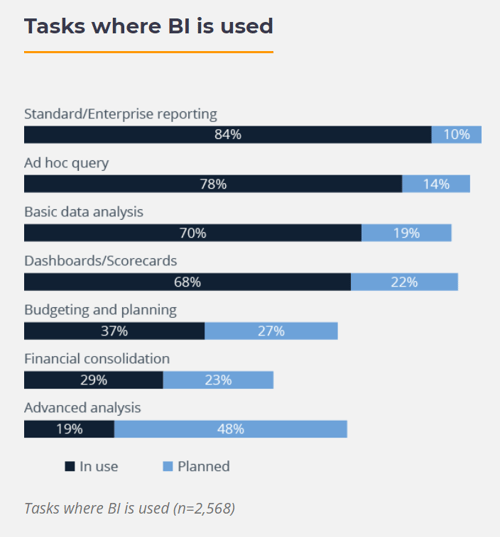 Source: BI-Survey.com: Finding the Right Business Intelligence Tool

The Technology of Business Intelligence
There are quite a number of tools, technologies and software available for business intelligence, and with abundance comes the opportunity to craft a business intelligence solution that's exactly right for your firm and its situation. Whether it's securing insights for growth or even benefiting from opportunities embedded in real time data, its no wonder that big data and business analytics is predicted to grow to a $187 billion market in 2019.
Many firms turn to consultants to help them select, customize, implement, monitor and train staff on using business intelligence. Generally speaking, BI solutions are integrated with existing systems, but can be a standalone application or even part of ERP, CRM or ecommerce systems.
Business Intelligence Inside Your Company
Successful business intelligence implementation require that your organization make investments in individuals who have the skills to:
Build data migration jobs to move critical data to a single data repository,
Manage those data stores and optimize their performance,
Understand the organization's business imperatives and related data
Present that data using the appropriate toolsets and software, and
Make it simple for stakeholders to access that data and leverage for making informed decisions.
Business intelligence can have a steep learning curve and be challenging to roll out in large organizations. Your consultant should be coming to the table with a well-crafted plan for managing the human equation of business intelligence, including a deployment schedule, staff training, monitoring and real-time assistance, particularly in the early stages of adoption.
With a well-crafted roadmap in place, companies can efficiently and effectively move from using static spreadsheets for managing their business to interactive and dynamic tools built on real and/or right-time information.


Business intelligence Investments and Freed Maxick
Business intelligence is a path to significant competitive advantage if staffed with the right team and implemented with the right technology. However, investments in business intelligence hardware and software are expensive, the skill sets needed are relatively scarce in the local job market (thus also expensive), and the ROI on those investments take time to realize given the learning curves and stops/starts of organizations on their business intelligence journey.
At Freed Maxick, we've already made those investments in best-of-breed technology, experienced DBAs and business intelligence developers. We offer business intelligence services that rapidly enable an organization to make the leap from static spreadsheets to interactive and dynamic dashboards with real or right-time information.
Whether you need a fully outsourced team or merely supplemental assistance on specific business intelligence initiatives, we're certain we've got the right approach to suit your needs.
To discuss your organization's situation and explore the possibilities of implementing a business intelligence capability, call me at 716.847.2651, or connect with me here.