Pennsylvania requires taxpayers with economic nexus to file corporate tax reports after 2019
Source: Corporation Tax Bulletin 2019-04, Pennsylvania Department of Revenue, September 30, 2019, ¶204-728 . Get the announcement here.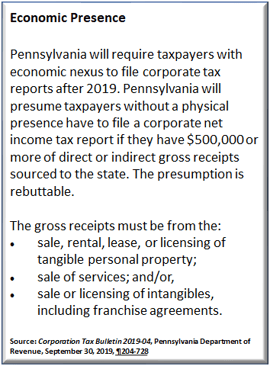 In Corporation Income Tax Bulletin 2019-04, the Pennsylvania Department of Revenue announced that it will extend the economic nexus theory that the Supreme Court announced for state sales tax obligations in Wayfair to state corporate income tax obligations. In effect, the PA Department of Revenue is replacing their policy of not asserting economic nexus for income tax purposes.
The bulletin states that "Corporations do not need to be physically present in Pennsylvania in order to have nexus for corporate tax purposes. Out-of-state corporations doing business in Pennsylvania must file tax reports if they are taking advantage of the Pennsylvania economic marketplace".
Taxpayers claiming P.L. 86-272 protection should still file a tax report and complete the necessary schedules to claim the exemption.
Questions? Talk to a Member of the Freed Maxick SALT Team
If you have any concerns or questions about this update, please contact a member of our state and local tax services team at 716.847.2651 or click on the button to reach us via form.