In the first of a four-part series, this previously recorded webinar discusses the intricacies and implications of Western New York's phased approach to reopening, as well as the effect of reopening on the relief programs available under the CARES Act.
Freed Maxick Tax Directors Jeff Zawada and Mark Stebbins discuss:
Employer Retention Credit
An overview of employer retention credit
What needs to be considered now that businesses are reopening
Visiting some key operation suspension dates in WNY and how it may impact your credit
Paycheck Protection Program
An overview of loan forgiveness
Considerations for eligible payroll costs and wage reduction
Considerations for full-time equivalency ratios
Considerations for 75% payroll/25% non-payroll limits
Additional considerations and planning
Bond attorneys Jay Organek and Peter Wiltenburg focus on:
Practical Concerns for Employers When Reopening
An overview of the state's reopening guidance
Considerations for employers in repopulating the workplace
Practical compliance issues facing employers, including health screening, contact tracing and addressing employee concerns
Assistance and Guidance from Freed Maxick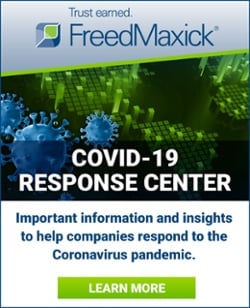 The Freed Maxick COVID-19 Resource Center has a wealth of information and guidance on a wide range of topics related to tax relief and benefits, regulatory relief and benefits, and business continuity in the era of COVID-19. Click on the button to explore insights, observations and updates.
If you wish additional guidance, we are available to discuss your issues and concerns. Connect with us here or call Freed Maxick at 716.847.2651.
Please keep in mind that due to the quickly-changing nature of the COVID-19 pandemic, you should always discuss changes with your Freed Maxick advisor or legal counsel.