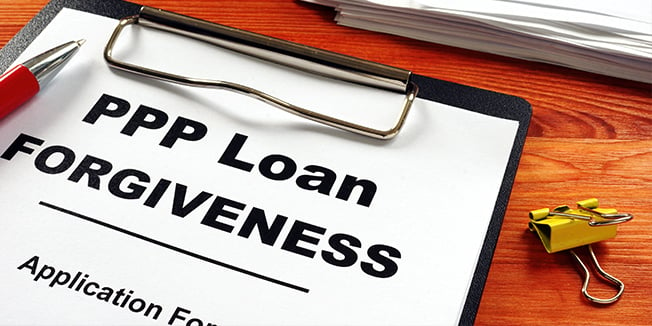 Late on Friday, May 15th, the SBA released the PPP Loan Forgiveness application. While this application has answered some of the questions in connection with the CARES Act and related SBA FAQs developed commencing on April 3rd, the SBA and Treasury have yet to issue regulations, corrections and further guidance for a variety of both new and old issues and questions. However, upon release of the Application this past Friday, both SBA and Treasury said that regulations and guidance would be issued "soon."

What highlighted issues did the application answer or where did it help provide clarity?

1.) Timing of payroll, in particular payroll pay-dates falling just after the end of the 8-week covered period – The CARES Act and accompanying FAQs that were issued, only state that payroll that was actually incurred and paid during the 8-week (covered) period are forgivable. However, the instructions to the application indicate that payroll expenses incurred during the 8 weeks qualify for forgiveness even if the pay-date falls outside of the covered period, providing that the incurred payroll is paid on the very next pay date following the covered period.


The new Application provides an "Alternative Payroll Covered Period (APCP)." This alternative period should make it more practical for employers with weekly or bi-weekly pay-dates. If the new alternative is elected, the 56-day period begins on the first day of the first pay-date of the borrower following their PPP loan disbursement.

For example, XYZ Company receives the PPP funding on Monday, April 20th and their first pay-date following its PPP loan disbursement is Sunday, April 26. The first day of the APCP is April 26 and the last day of the APCP is Saturday, June 20.

Additionally, if borrowers elect to use the Alternative Covered Payroll Period, they will use the APCP time line to calculate the includible health insurance and retirement contribution components of their payroll forgiveness computations.

2.) Reduction calculations for reductions in compensation, hours and employees – Because these calculations include multiple mathematical computations, I refer you to the instructions included in the Forgiveness Application of completing PPP Schedule A Worksheet. The instructions assist in taking you through the Worksheet in determining employee head count and compensation reductions, if any. One item that was clarified in this release is that if there is a reduction in the number of employees and/or compensation under the test for forgiveness, then other qualifying items such as, rent, interest and utilities are also reduced.

Also, before preparing these reduction calculations if necessary, know that it is very likely that your payroll providers will prepare reports to be used in the forgiveness calculation, similar to when you determined your payroll sizing for your PPP loan.

3.) Guidance on what information and documents must be submitted with Forgiveness Application and what information must be retained by the entity.

For submission with the Forgiveness Application you must include:
Payroll: Verifying the eligible compensation amounts from the Covered Period or the Alternative Payroll Covered Period, including:

Tax forms, payroll tax filings (Forms 941) and;
State quarterly business and employee wage reporting and unemployment insurance tax filings reported;
Payment receipts, cancelled checks, or account statements documenting employer contributions to health insurance and retirement plans.

FTE: Documentation showing (at the election of the Borrower):

the average number of FTE employees on payroll per month employed by the Borrower between February 15, 2019 and June 30, 2019;
the average number of FTE employees on payroll per month employed by the Borrower between January 1, 2020 and February 29, 2020; or
in the case of a seasonal employer, the average number of FTE employees on payroll per month employed by the Borrower between February 15, 2019 and June 30, 2019; between January 1, 2020 and February 29, 2020; or any consecutive twelve- week period between May 1, 2019 and September 15, 2019.
Nonpayroll: Documents (cancelled checks, invoices, receipts, account statements etc.) related to business mortgage interest and payments, business rent or lease payments, and business utility payments.
Documents that Each Borrower Must Maintain but is Not Required to Submit
Although this information is not intended to be all inclusive, Borrower's must maintain the following:
Documentation supporting the listing of each individual employee in PPP Schedule A Worksheet Tables 1 and 2 (Salary/Hourly Wage reduction calculation and support listing each listed employee with compensation at an annualized rate of more than $100,000).
Documentation regarding any employee job offers and refusals, firings for cause, or voluntary resignations.
Documentation supporting the PPP Schedule A Worksheet "FTE Reduction Safe Harbor"
Additionally, the Borrower must retain all documentation submitted with the PPP Loan application, and documents used by the Borrower to support their certifications and eligibility for the PPP loan.
All the documentation must be retained by the Borrower for a period of 6 (six) years after the date the loan is forgiven or repaid.
The application, worksheets, tables and instructions are 11 pages, and appear somewhat straight forward. However, there are still questions and issues that are looming from business owners:
1. Will there be any modification or extension to the 8-week time period for those businesses that have been closed or significantly reduced by mandatory orders?
2. Will there be any flexibility of the 75% threshold for payroll? Some businesses who may be in the initial reopening phases may not be able to call back enough employees before their covered period expires.
3. When determining FTEs, who counts? Are the required hours for an FTE 40 as stated in the instructions to this Application, or 30, as it appears in SBA 7(a) definitions? Will there be guidance on current employees that were not employees as of February 15, 2020, will there be family attribution or affiliation rules?
4. Will independent contractors, partners in partnerships/LLC members and sole proprietors be allowed to include their health insurance and retirement plan contributions? As of right now, a literal interpretation of the Application and instructions seems to suggest no, as the specific reference for completing PPP Schedule A states that, "Payroll" will include total amounts paid by the Borrower for "employee health insurance and employer contributions to employee retirement plans."
5. An expansion of the payback period for the non-forgiven amounts? Currently, the CARES Act provides that the payback period for non-forgivable portion will be for a 2-year duration at a 1% interest rate, with the first payment deferred for 6 months.
Some of these issues will likely require Congress to act vs. the SBA or Treasury as they have limited authority. Similar to what we have experienced over the last 8 plus weeks is that things will continue change at a rapid pace. What we think we know in the morning may change at least two more times before we go to bed.