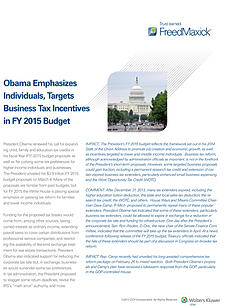 As we approach the tax day deadline, we've compiled a summary of proposed changes to tax
law that will affect you next tax season.
President Obama renewed his call for expanding child, family and education tax credits in his fiscal Year (FY) 2015 budget proposals as well as for curbing some tax preferences for higher income individuals and businesses. Many of the proposals are familiar from past budgets, but for FY 2015 the White House is placing special emphasis on passing tax reform for families and lower income individuals.
To learn more, check out this SPECIAL REPORT.
View full article