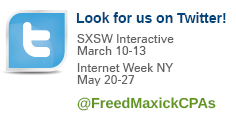 This spring Freed Maxick will be at SXSW Interactive as well as Internet Week NY. It's all part of the Firm's corporate culture and an effort to stay ahead of the curve and innovative in all that we do.
From emerging media tools, social media platforms and the web, to the rapid growth rate of mobile and even blogs, Freed Maxick recognizes the importance of technology and wants to communicate effectively with our employees, clients and the community. The best way to do that is to stay on top of the trends, and learn all that we can to best serve our clients.
From our Twitter account where we relay the most up to the minute updates concerning taxes, accounting and industries such as manufacturing, healthcare or real estate, to our careers blog featuring insight into the accounting profession, Freed Maxick aims to stay connected.
Attending SXSW Interactive or Internet Week NY? Make sure to look for Freed Maxick on Twitter @FreedMaxickCPAs, using the event hashtags #SXSW and #IWNY. We're there to learn from thought leaders in the industry and apply new knowledge to the way we do business. We'll be sure to communicate helpful info for high tech companies, share best practices learned and take part in the innovative coversation.
View full article