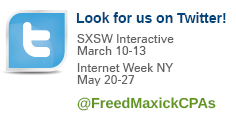 This spring Freed Maxick will be at SXSW Interactive as well as Internet Week NY. It's all part of the Firm's corporate culture and an effort to stay ahead of the curve and innovative in all that we do.
From emerging media tools, social media platforms and the web, to the rapid growth rate of mobile and even blogs, Freed Maxick recognizes the importance of technology and wants to communicate effectively with our employees, clients and the community. The best way to do that is to stay on top of the trends, and learn all that we can to best serve our clients.
From our Twitter account where we relay the most up to the minute updates concerning taxes, accounting and industries such as manufacturing, healthcare or real estate, to our careers blog featuring insight into the accounting profession, Freed Maxick aims to stay connected.
Attending SXSW Interactive or Internet Week NY? Make sure to look for Freed Maxick on Twitter @FreedMaxickCPAs, using the event hashtags #SXSW and #IWNY. We're there to learn from thought leaders in the industry and apply new knowledge to the way we do business. We'll be sure to communicate helpful info for high tech companies, share best practices learned and take part in the innovative coversation.
View full article
Event Details:
With the ever-changing and complex regulatory environment, compliance with accounting for income taxes
(ASC 740), formerly known as FAS 109, has become more difficult for companies to manage efficiently. Companies must work hard to ensure that they minimize compliance related errors with the current tax laws and financial accounting and reporting standards.
In this two-hour LIVE webcast on May 17th, a panel of distinguished professionals assembled by The Knowledge Group will discuss the significant topics related to tax accounting rules and implementation of ASC 740. The faculty will discuss:
Brief Overview of ASC 740 and Refresher in Current and Deferred Tax Computation

Pertinent Accounting Principles and Tax Accounting Provisions

Application of ASC 740 to State and International Income Taxes

Hot Topics in Internal Controls

Issues Relating to Compensation and Benefits Developments

Best Practices and Practical Guidance for Tax Preparation, Compliance and Effectiveness


Up-to-the-Minute Regulatory Updates
This is a must attend event for Finance Executives, CPAs, Attorneys, Enrolled Agents, Tax Practitioners, and other Interested Professionals. Attending this course will give you the tools you need to understand the latest developments in ASC-740.

Course Level: Intermediate
Prerequisite: None
Method Of Presentation: Group-Based-Internet
Developer: The Knowledge Group, LLC
Recommended CLE/CPE Hours: 1.75 - 2.0
Advance Preparation: Print and review course materials
Course Code: 134416
Course Fee:
$199 - $249 (Early Bird Discounted Rate - on or before 05/07/2013)
$299 - $349 (Regular Rate - registration after 05/07/2013)
$149 (Government / Nonprofit Rate)
(Please click here for details)
Featured Speakers for ASC 740: Income Tax Accounting for 2013 LIVE Webcast :
Douglas I Schwartz, LLC
Douglas I. Schwartz, CPA/CFF, Cr.FA
Managing Member
speaker bio »»
Freed Maxick CPAs, PC
Mark A. Stebbins, CPA
Director - Tax Practice Leader
speaker bio »»
Freed Maxick CPAs, PC
Samuel C. DiSalvo, CPA J.D.
Director
speaker bio »»
Who Should Attend?

- Finance Executives
- CPAs
- Tax Attorneys
- Enrolled Agents
- Tax Practitioners
- Tax Directors
- Tax Managers/Executive
- Internal Audits
- CFOs
- Financial Planners and Executives
- Tax Consultants
- And Other Interested Professionals
Why Attend?
This is a must attend event for anyone interested in understanding the related issues and changes to Income Tax Accounting (ASC 740). In this live virtual course, you will hear:

- Detailed guidance explained by the most qualified key leaders & experts
- Hear directly from experienced practitioners & thought leaders
- Interact directly with panel during Q&A

Advanced registration is recommended as space is limited. Please click the "Register" button below to enroll in this course today. Significant discounts apply for early registrants.

Registration Information:
(Click here for information on group registrations and discounts)
View full article