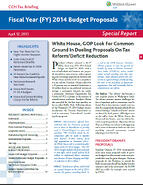 President Obama released a $3.77 billion fiscal year (FY) 2014 federal budget on April 10, 2013, with a mix of individual and business tax proposals intended to raise revenue, reduce spending and encourage negotiations between the White House and the GOP on comprehensive tax reform.
President Obama called for a 28 percent cap on itemized deductions, a $3 million limit on tax-preferred retirement savings, a permanent research tax credit, a permanent American Opportunity Tax Credit (AOTC), a change in the taxation of carried interest, and more. President Obama also provided for the first time specifics on the so-called Buffet Rule. Following release of the President's FY 2014 budget recommendations, the Treasury Department issued its customary "Green Book," describing the proposals.
Check out the latest CCH report featuring insight on tax reform and deficit reduction.
View full article