Introduction to PCI Data Security Standards (DSS) and Compliance Processes
Which PCI DSS Process is Right for Your Company? (Free Presentation)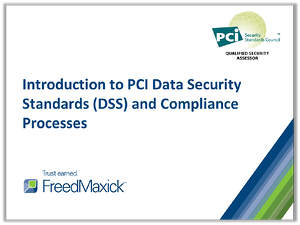 Credit card security and being compliant with the PCI Data Security Standard (DSS) is critical for your business. This standard has 6 "domains", 12 control objectives and more than 218 control activities that must be tested with a "no fail" standard".
In this free presentation from the PCI Security experts at Freed Maxick, you'll learn about:
What the Self-Assessment Questionnaire Process is all about
5 different types of self-assessment questionnaires and which one is right for you
Requirements for external network security scans
The payment application data security standard and its applicability to your situation
What "compensating controls" are and how they might apply to your situation
Myths about exemptions for PCIS DSS compliance
Simply complete and submit the form for this valuable guidance, and get guidance on the right ways of getting into PCI compliance today.