You Could be Incurring a U.S. Tax or Filing Obligation Without Knowing It
Non-US Residents Need to Be Aware of the Rules and Their Obligations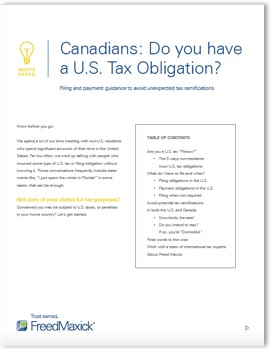 If you're a non-US resident, you need to be aware – and careful – about any US tax obligations or filing requirements. The International Tax Team at Freed Maxick prepared this complimentary guide to help you avoid penalties and other consequences.
Inside you'll learn:
3 ways non-residents incur US tax obligations
What you must file with the IRS and when
3 common types of taxes you may need to pay (or not)
How snowbirds get in trouble with the IRS
The benefits of filing even if not required
Download this free guide by completing and submitting the form.
We're pleased to offer this guidance, and stand by ready to assist you with any questions or concerns you may have.