The Real Tax-Saving Surprises of Cost Segregation
A Commercial Property Owner's Guide to Cost Segregation Studies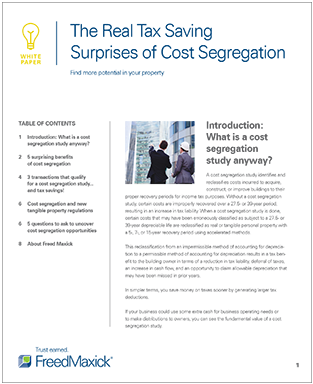 The cost segregation experts at Freed Maxick are pleased to offer this complimentary guide for owners of commercial real estate.
Inside:
3 transactions that qualify for a cost segregation study… and tax savings!
5 surprising benefits of cost segregation
5 questions to ask to uncover cost segregation opportunities
Plus, the one-two punch tax-saving power of new tangible property regulations combined with cost segregation.
Complete and submit the form for an immediate download.