Free Whitepaper: 7 Common Problems and Solutions in Buy-Sell Agreements
A well written buy-sell agreement can significantly reduce the risk of shareholder disputes and costly litigation
---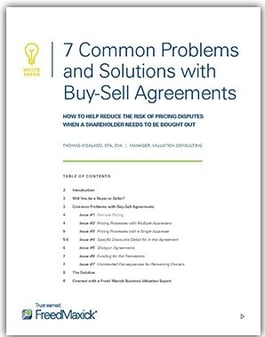 Inside this complementary whitepaper from our Business Valuation Team, you'll learn:
Types of common events that can trigger a buy-sell agreement
Issues with formula pricing in buy-sell agreements
Pricing process issues with single or multiple appraisers
Flaws with discounting an appraiser's valuation
Why a shotgun agreement may not work
Issues with how the buy-sell transaction will be paid for under different triggering events.
We also discuss solutions and costs associated with building and maintaining your agreement.
To get this valuable resource, simply complete and submit the form, today.