Guide for Changing Your Not for Profit Audit Firm
Latest best practices for the audit firm transition process including identifying needs and issues, writing and disseminating RFPS, scoring proposals and presentations, and more.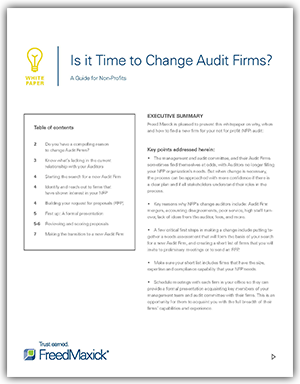 When change is necessary, the process can be approached with more confidence if there is a clear plan and if all stakeholders understand their roles in the process.
Inside:
Key reasons why NFP's change auditors

Critical first steps for making a change

Criteria for your short list

Six key factors that can help insure that the selection of a new firm is successful

Proposal scoring best practices

Immediate steps after the selection is made
Complete and submit the form for an immediate download of this important whitepaper, today!