How Asset Based Lenders Can Reduce the Risk of Lending
Protect Your Assets and Collateral with this Collection of Best Practices from the Leading Industry Experts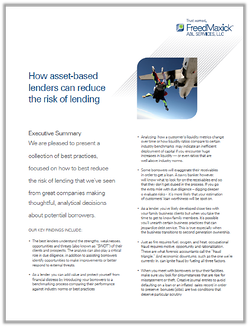 Asset based lenders need to take steps to evaluate potential borrowers and reduce the risks of lending. In this whitepaper from the Asset Based Lending Team at Freed Maxick, we present our observations and insights on evaluating risks and protecting your assets and collateral.
Inside:
How asset based lenders use SWOT analysis to evaluate potential borrowers
Why banks use benchmarking to analyze potential borrowers
Evaluating borrower's liquidity - a crucial concern for asset based lenders
Why evaluating receivables of lenders is a best practice
How top asset based lenders detect and prevent
How to make allowances for doubtful accounts
To get this valuable complimentary resource, simply complete and submit the form today.