Is Your Cybersecurity Robust Enough to Accommodate New Workforce Models Built to Deal with Covid-19?
Complimentary 2-Part Assessment Tool Finds Weakest links in Your Cybersecurity Defenses
---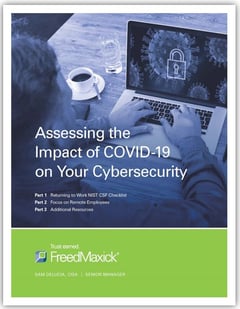 In an era where you have a mix of remote, on-site, shift workers and contracted employees, cyber thieves have more opportunities than ever before. Pinpoint where your cyber defenses are ripe for malicious attacks and cyberthefts.
Over 100 easy to answer assessments
Built from guidance from the National Institutes of Standards and Technology and other trusted sources
Strengthen your company's entire digital ecosystem.
Simply compete and submit a request for this valuable assessment tool today, compliments of the Freed Maxick Cybersecurity Team.