Introduction to Payment Card Industry
(PCI) Compliance
Compliance with PCI Security Standards is Good Business (Free Presentation)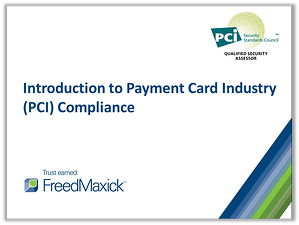 Getting in compliance with Payment Card Industry (PCI) security standards is becoming increasingly important and may not be the headache you expected.
In this free presentation from the PCI Security experts at Freed Maxick, you'll learn:
What the PCI Data Security Standards are
Who PCI Data Security Standards apply to
Who the players are in the PCI Relationship Matrix
The role of Payment Card Industry Security Standards Council
Did card brand programs for security go away?
What general merchant class you fall into, and your compliance requirements
The costs of having your security compromised
Safe harbors for merchants when it comes to stolen account data
Credit card security is critical for your business...being compliant with PCI standards starts with understanding what they're about.
Simply complete and submit the form for this valuable guidance, and get better protection starting today.