Exit Planning: Managing Expectations When Selling a Small Business
Thinking about selling your business? Get insights and observations from data on over 22,000 transactions
---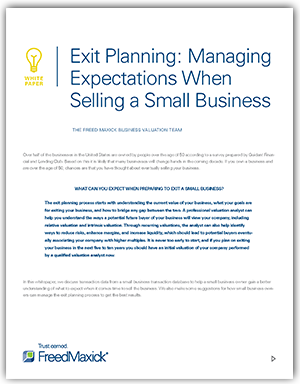 If the time has come to exit your business, our latest whitepaper from our Business Valuation Team will help you understand and address the realities and truths you'll be facing. Get insights and observations on what to expect regarding revenue and EBITDA multiples, transaction costs, time on the market and discounts from original asking price.
Questions addressed and answered:
What Multiples Can You Expect?
How Long Will it Take to Sell Your Business?
Will You Get What You Ask For?
How Can You Increase the Attractiveness of Your Company Between Now and Exit?
How Much Will the Transaction Cost?
To get this valuable resource, simply complete and submit the form, today.