Preventing and Stopping a Cyber Attack. Stone. Cold. Dead.
Find and plug the holes in your cyber defense using our 23 self-checkup assessments.
---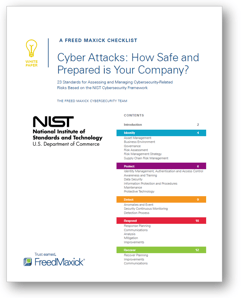 The Freed Maxick Cybersecurity Team is pleased to provide a free, downloadable tool based upon the NIST Cybersecurity Framework to help you check for vulnerabilities in your company's digital ecosystem.
Included:
Assessing your risk management assets – up to par?
A hard look at your cybersecurity infrastructure – open avenues for thieves?
Recognizing when attacks occur – getting caught flat-footed?
Crushing the attack – how effective is your battle plan?
After an attack – recovering and rebuilding?
Simply complete the form for immediate access to this critical tool.