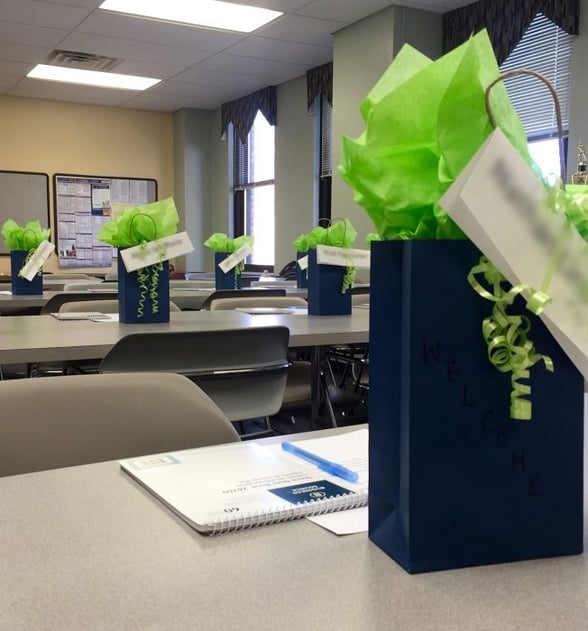 Beginning a new job can be a nerve wracking process, especially if it's the beginning of your career like it was for me. Freed Maxick understands that and really helps make the transition to a full time employee a smooth process. Before my first day, I received a phone call from my "buddy," (a second year staff), who is there to help guide and answer questions for you, discuss what you expect on your first day and more. This brief conversation went a long way to ease my nerves and help me feel welcomed at the Firm.
My first two days were spent alongside the rest of the new hires. The initial orientation consisted of various presentations that introduced Freed Maxick's culture, business and structure. We were also introduced to many current employees, ranging in levels from second year staff to Directors. We also participated in some fun activities which helped us get to know each other better, and were able to ask questions to a panel of second years who were in our shoes not too long ago.
On the third day, we began the Audit Level 1 Training. The program lasted three days and consisted of lectures along with professionally developed case studies that simulated what we could expect when out in the field. Our teacher was very knowledgeable and did an excellent job presenting the material. A delicious breakfast and lunch was provided each day too which was an added bonus!
Following training, I was sent to a client to help with some interim fieldwork. The engagement team was very understanding that this was my first job, and showed me how to approach the various tasks I was assigned. Despite the quick turnaround from training, this experience was very useful and gave me an idea of what to expect out in the field during future engagements.
After completing the initial fieldwork, I was back in the office where we were given some additional training from current employees on basic software and processes the firm routinely uses. We were also given a list of videos to watch on our own time that talked about proper dress code, email etiquette, and other similar matters.
We were brought in during a slower time of the year, but I believe this was best because it gave us time to become comfortable with the Firm. I was able to begin developing relationships with my coworkers which always makes the transition to heavier workloads much easier. Overall, I could not have asked for a better experience in my first few weeks at Freed Maxick.
Written by Daniel Bender, Staff Accountant