How To Grow Post Pandemic
Many small to mid-size companies struggle to achieve business continuity in disruptive economic times.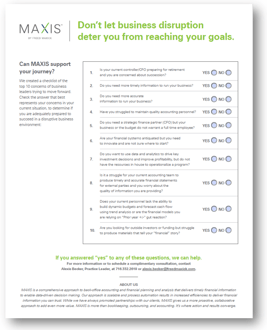 So it was no surprise that the upheaval of the COVID pandemic overwhelmed business leaders as they tried to understand the potential implications of altered tax deadlines, the nuances of new federal loans, grants, and stimulus programs, including the Paycheck Protection Program (PPP), and the range of options to acquire technology to secure and protect financial and business assets.
MAXIS® by Freed Maxick was created to provide clarity for organizations trying to navigate through business and financial challenges. It delivers sound tax and accounting guidance, promotes stronger partnerships, and assures more certainty in moving forward. With MAXIS, Freed Maxick unites the discipline of accounting with a sound business acumen to generate confident, strategic decision-making – especially for closely held companies.
Is MAXIS the right partner for your organization? We've created a checklist encompassing the Top Ten Concerns That Business Leaders Have in trying to forge ahead. Download this business continuity planning checklist now to see if MAXIS could be a good fit for your organization. And visit our webpage for more information on how MAXIS might help your company grow and flourish.