5 Factors to Consider When Determining the Frequency of Business Valuations


During the life of a business, several events will make a business valuation necessary, such as buying or selling a business, admitting or buying out a shareholder, or valuing a company for estate taxes. If tracking the value of your business to help with estate, exit or succession planning (which we recommend), then you may also need to consider how often a business valuation needs to be performed.
There is no right answer, but several factors should be considered, shown in Figure 1 and discussed below.
Figure 1. Factors to Consider in Determining Frequency of Valuations

The Practical Matter of Cash Flow and Profitability Affects Frequency of Business Valuations
The first factor to consider is a practical matter – how often can you afford to have business valuations performed?
If your company does not produce any cash flow for the owners, then there is likely little business value or need to have regular valuations performed. If the company is producing significant amounts of cash flow for the owners, then you may want to measure value more frequently. A good way to think about the cost is similar to how you would pay a wealth advisor based on a percentage of assets under management. Set aside a percentage of your company's value to use for activities to manage the wealth tied up in the business including valuations, legal reviews, updating buy-sell agreements, etc.
Time Until Exit Affects Frequency of Business Valuations
Business valuations can be used to understand what the key value drivers and risks are for the business. This information can be used to help increase the company's value as you move closer to selling the business.
If you are a long way from exiting the business, then an occasional checkup will suffice. If you are within five years from selling the business, then you will want to have more frequent checkups to make sure you are on track for increasing value and reducing risk to assure you can get the best deal when you do exit.
Industry Dynamics Affects Frequency of Business Valuations
A company operating in a stable industry such as consumer staples or utilities is less likely to have large swings in value due to industry trends.
Companies operating in industries with constant change such as technology or healthcare are more likely to see large swings in value from industry trends and should have valuations performed more frequently relative to companies in stable industries.
Concentration Risks Affects Frequency of Business Valuations
For small companies, significant swings in value can result from concentrations of business with a small number of customers, concentration in a limited geographic market or a static amount of products or services.
Consider the volatility in stock price for a local small publicly traded company in Figure 2 which relies on around a half-dozen customers for about half of its revenues. Large swings in price were mostly caused by announcements of new large contracts from those key customers.
This company's market capitalization increased about 2.5x between the end of 2013 and the middle of 2016 and is now around 60% of its 2016 peak.
Figure 2. Stock Chart for Small Local Publicly Traded Company

Now consider Figure 3, which shows the stock chart if the company was not publicly traded and just measured value through annual appraisals. This is deceiving because the company's value appears much more stable than it actually is.
More concentration risks make a company's value more volatile, which means you should measure the value more frequently.
Figure 3. Stock Chart if Not Publicly Traded and Valued Annually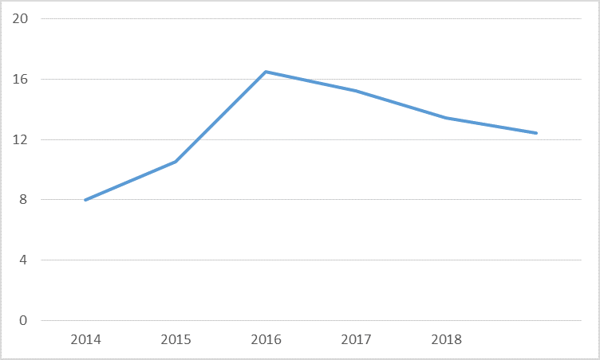 Having Multiple Owners Affects Frequency of Business Valuations
If your company has multiple owners, then an annual valuation can help to keep everyone on the same page in terms of expectations for pricing in the event that one of the owners needs to be bought out.
This will help to reduce the likelihood of shareholder disputes and litigation. If you have multiple owners, we recommend having annual valuations performed to update the pricing in your buy-sell agreement.
Let's Discuss Best Practices for the Frequency of Business Valuations for Your Business
For a much more thorough discussion of the appropriate frequency of having valuations done for your business, contact me (Tom Insalaco, 716-622-9680, thomas.insalaco@freedmaxick.com) or another member of the Freed Maxick Business Valuation Team.
Let's talk about getting an updated business valuation as a key milestone. Freed Maxick will conduct a comprehensive analysis of your company, perform market research, and develop documentation showing the true financial operating potential of your business.
View full article
Lawyers aren't expected to be valuation experts. That's why they choose to hire professional appraisers when their clients need a company or business interest valued for tax, litigation or other purposes. But having a basic understanding of the various standards of value allows you to work more effectively with your expert — and better serve your client.
The ins and outs of FMV
Did you know that the most widely recognized standard of value is fair market value (FMV)? It's almost always used for valuing business interests for estate and gift tax purposes. The IRS defines FMV as "the price at which the property would change hands between a hypothetical buyer and seller who have reasonable knowledge of the relevant facts and are under no compulsion to enter into the transaction."
Fair market value reflects the price at which a transaction would occur under the conditions that existed as of the valuation date. For many standard-setting bodies, FMV represents the highest and best use that the property could be put to on the valuation date, taking into account special uses realistically available. It doesn't matter if the owner has actually chosen that use for the property.
Understanding "Fair Value"
According to the Financial Accounting Standards Board (otherwise known as FASB), fair value is the price it would take (in an orderly transaction between market participants) to transfer a liability or sell an asset in the market where the reporting entity would typically transact for the asset or liability.
The fair value standard is often applied for financial reporting purposes. But it's also used in shareholder or divorce litigation, and is typically defined by state law in such cases. In many states, fair value for litigation involving dissenting shareholders is considered to be the pro rata share of a controlling level of value. So, control and/or marketability discounts generally aren't applied.
Understanding Investment Value
Investment value (also known as "strategic value") represents the value of an asset to a specific investor. For real estate purposes, it's often defined as the value of an investment to a particular investor or class of investors based on their investment requirements. Value is determined by discounting an anticipated income stream while also considering potential benefits from synergies such as lower expenses or revenue enhancement.
Investment value varies from FMV for a couple of reasons, such as contrasting estimates of future income and different perceptions of risk. There may also be income status differences and synergies with other operations that are owned or controlled by the investor.
When it comes to shareholder litigation, investment value carries a different meaning, however. Here, investment value is based on earning power, but the appropriate capitalization rate or discount is typically a consensus rate that isn't specific to any investor.
Understanding Intrinsic Value
Intrinsic value is usually employed when valuing an equity share to determine its "real worth." Intrinsic value (also known as fundamental value) is calculated by looking at an asset's primary value factors. Relevant factors include:
The value of the company's physical assets,
Expected future earnings,
Expected dividends payable and future interest, and
Expected future growth rate.
It's true: Defining intrinsic value can be rather tricky. Many appraisers use the term to refer to investment value, while others use it to describe the independent analysis of an investment analyst, banker or financial manager. Trouble is: Courts don't always clearly define the term, either. So, appraisers are challenged to establish an upfront, clear definition with their clients and attorneys.
Understanding the options
So, with so many options to choose from, how do valuation experts decide which standard to apply when performing a business valuation? The appropriate standard is often determined by specific court orders, state or federal statute, or case or administrative law. Corporate documents, such as articles of incorporation or buy-sell agreements, also might dictate the applicable standard.
A valuator's professional judgment factors into the decision, as well. For this reason, it's important that you work with an experienced and qualified appraiser. It might just mean the difference between testimony that's accepted in court or that which is rejected.
© 2014
View full article