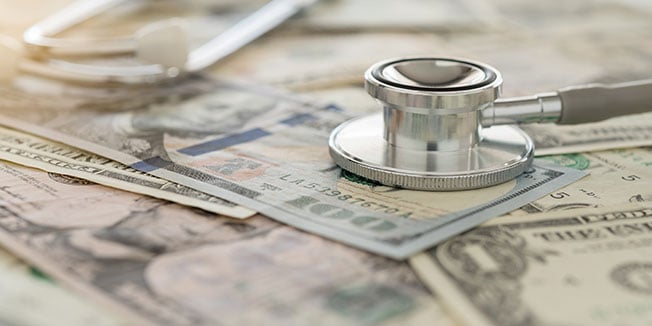 Enacted in March 2021, the American Rescue Plan (ARP) Act was designed to combat the economic crisis caused by the COVID-19 pandemic. The $1.9 trillion package had a variety of mechanisms to deliver assistance to the American people via several federal agencies. The Department of Agriculture has recently unveiled the Emergency Rural Health Care (ERHC) program which is to provide immediate assistance to rural health care providers that have been affected by the pandemic as well as to improve health care delivery related to COVID-19.
This program provides up to $500 million in grant funding to help broaden health care access and improve community health outcomes as it pertains to the COVID-19 pandemic. Applicants will be awarded between $25,000 and $1 million for their respective grants.
Applications are due by October 12, 2021 and will continue to be accepted so long as funding remains available.
Who is eligible to apply for the ERHC grant?
Eligible applicants may consist of public bodies, community-based nonprofit corporations, and federally recognized tribes located in an eligible rural area.
What constitutes as an eligible rural area?
The term 'rural area' is defined in section 343(a)(13)(C) of the Consolidated Farm and Rural Development Act. A rural area may mean "…any area other than a city, town, or unincorporated area that has a population of greater than 20,000 (i.e. a population of not more than 20,000)." For purposes of the grant, population can be measured based upon the latest U.S. Census data.
Those statistics may be adjusted to exclude long-term prison populations as well as up to 1,500 service members living in government quarters on a military installation.
Applicants can be headquartered in urban areas and request funds for facilities located in – and primarily serving – rural areas.
What can the ERHC grant funds be used for?
Funds must be utilized in correlation with the COVID-19 pandemic, and there are a variety of uses that applicants can utilize the funds for, such as increasing capacity for vaccine distribution or increasing telehealth capabilities, but most notably is the potential to be reimbursed for health care-related lost revenue used to maintain capacity during the coronavirus pandemic. While the Provider Relief Funds (PRF) were primarily utilized for this purpose, many providers still had lost revenues in excess of the funds received via PRF. IMPORTANT: Applicant requests for reimbursement of lost revenue must also include a certification from a certified public accountant confirming that the calculation of lost revenue is accurate.
It is also important to note is that these funds are prohibited from being utilized for a number of purposes, including but not limited to:
Expenses or losses reimbursed (or obligated to be reimbursed) from any other sources (i.e. losses previously reimbursed through PRF);
Expenses related to staffing needs exceeding annual salaries of $100,000 as prorated over the applicable time period; or
Payments for existing indebtedness unrelated to COVID-19
How are the ERHC grant awards calculated?
Applicants will be limited to percentages of the respective project cost (or lost revenues) ranging from 15% to 75%. Factors include total population of the eligible rural area and the median household income of the area.
What does my organization need to apply?
Nonprofit applicants must provide the following items in conjunction with their application:
Articles of incorporation
By-laws
Evidence of good standing
Evidence of ties to the local rural community as demonstrated by:

Close association with or control by a local unit of government; or
Broad-based ownership and control by members of the community, demonstrated through a listing of the board members that represent the community; or
Substantial public funding as demonstrated through taxes, revenue bonds, local government sources, or community-wide fundraising campaigns.

Evidence of eligibility including:

Location of the facility and associated population demographics
Description of the service area
Evidence the facility primarily serves rural residents
Freed thoughts
While the items required for submission to the Emergency Rural Health Care (ERHC) program may be slightly more than what providers have previously had to submit for other rounds of funding, most providers' lost revenue calculation has already been performed for the year ended December 31, 2020. Any lost revenue calculated for 2021 should follow the same methodology.
If you have any questions or need additional guidance, Freed Maxick Healthcare can help. Please contact Chirico Rozsa at 716.847.2651 or utilize our contact form.