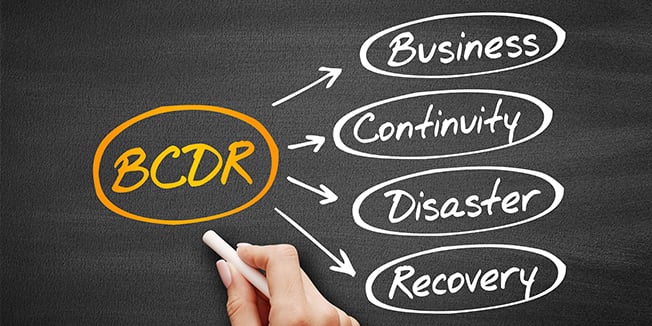 In an unpredictable world, many things can occur that were not planned, such as natural disasters, ransomware attacks, power outages, and many more. Many businesses have faced disasters or unplanned events and have come to realize their company's Business Continuity Plan (BCP) and Disaster Recovery (DR) are not as effective as they need.
No one can anticipate a disaster. That is why it is important to always be prepared for a disaster or catastrophic event.
A 2020 survey found that 51% of companies do not have a business continuity plan (Source: Mercer via Economic Times).
A break in continuity can cost a small business $10,000 per hour at minimum (Source: Datto).
One in 5 small and medium-sized business executives do not have a recovery plan in place (Source: Infrascale). An effective BCP/DR can help minimize the effects of such an event.
While Business Continuity Planning and Disaster Recovery Planning may be interdependent, these two concepts are not the same. It is important to note they overlap in many areas and work best when are developed together. It is also important to know the differences between a BCP and DR plan to know how to successfully prepare each plan.
What is a Business Continuity Plan?
A business continuity plan (BCP) is a document that outlines how a business will continue operating during an unplanned disruption in service. Business continuity planning provides contingency plans which outline procedures and instructions an organization must follow, covering business processes, assets, human resources, business partners and more. Some BCPs include planning for smaller interruptions or minor disasters, such as extended power outages.
What is Disaster Recovery?
Disaster Recovery (DR) is the process of resuming normal operations following a disaster by regaining access to data, hardware, software, networking equipment, power and connectivity. DR includes measures a business must take to respond to an event and return to normal operation as quickly as possible. This can involve communicating with employees about the event, what they are expected to do, and a plan on how to continue business after the event.
Similarities between Business Continuity and Disaster Recovery
Both are proactive strategies that help a business prepare for a sudden event or disaster. Instead of being reactive plans, BCP and DR both take preemptive approaches, seeking to minimize the effects of the disaster before it occurs.
Both require regular review and testing in order to ensure the plan is effective. It may involve some revision or modification when testing or reviewing by management as needed.
Differences between Business Continuity and Disaster Recovery
Business continuity focuses on keeping a business operational during a disaster, while disaster recovery focuses on restoring data access and IT infrastructure after a disaster. Put simply, business continuity is concerned with keeping the business running during a disaster while disaster recovery is concerned with returning to normal as quickly as possible.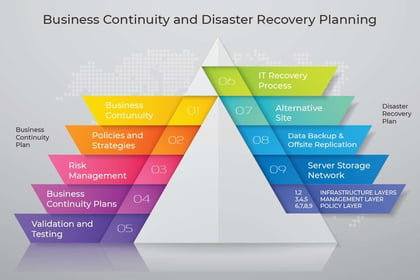 Unlike business continuity plans, disaster recovery plans may involve creating additional safety measures for employees, such as fire drills or purchasing emergency supplies. Combining the two allows a business to focus on the safety and maintenance of the business and its employees.
An effective Business continuity plan limits the operational downtime, whereas an effective disaster recovery plan limits inefficient system function. Only by combining the two can a business thoroughly prepare for a disaster or catastrophic event.
Some businesses may include disaster recovery plans as part of the overall business continuity plan. Disaster recovery is one step in the overall process of safeguarding an organization against all emergencies or events.
More Information on Business Continuity and Disaster Recovery
Many types of events can cause an organization to deploy a business continuity plan or disaster recovery plan, these deployments have shown many businesses that they need further revision or modification of the current plan in place. According to FEMA, 40% - 60% of small businesses never reopen after a disaster. The importance of having a BCP and DR are tremendously vital for the success of your business. Many businesses may not know the differences in both plans and only have one in place. Preparing for a disaster or event requires a business to have both BCP and DR plans in place to ensure their operational functions are best prepared for any event or catastrophe.
If you are concerned about your business's ability to recover from a disaster or want advice on the strength of your Business Continuity Plan and/or Disaster Recovery, our risk consulting team is available to help. For a complimentary consultation, please contact us via form here; call me at (716)332-2761, or send an email to nicole.fitzgerald@freedmaxick.com.
If the Coronavirus has caused your small to medium-sized business to encounter problems, please visit our Coronavirus Resource Center to learn what you can do to recover from this disaster.