How long have you been working at Freed Maxick? Did you start at the Firm right from college?
I have been working at Freed for four years, starting in the fall of 2017 after finishing my Master's degree.
How long have you been a remote employee?
I became a full time remote employee in October 2020 when I moved to Alaska.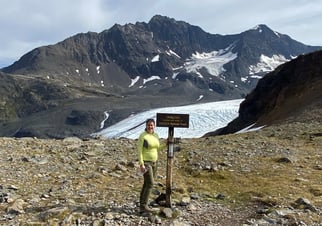 How has your experience been working remotely?
Freed Maxick has been very attentive to my needs for my remote work arrangement. My husband is in the military so we move frequently. When I came to the decision I needed to move in order to be with him, Freed embraced it and allowed me to transition to being a remote worker. Our MAX Flex program has been a huge blessing when it comes to being a remote employee. While working in Alaska, my team worked with me to come up with working hours that benefited everyone, despite the time difference. Furthermore, when it came to moving yet again, the MAX Flex program allowed me to flex my work hours to accommodate for another cross country move, without having to use up all of my PTO.
Working remotely, many of my teams utilize virtual audit rooms. This is simply a video call we run in the background while we work on our engagements and it simulates being in person with your team. The audit rooms have helped me to feel connected to my co-workers although we are not physically at the same client site or in the office together.
My coworkers have honestly been so instrumental in making this remote arrangement successful. When I transitioned to being a fully remote employee I had several conversations with my performance advisor, HR, directors, and other managers who helped me understand their expectations and develop best practices.
In addition to being able to work remotely, I had the opportunity to explore Alaska personally. I'm lucky enough to have seen the Northern Light from my back porch at the time, but I also went dog sledding, visited "Santa's Workshop" in North Pole, Alaska, did a wildlife and glacier boat tour in Seward, and tons of hiking.
Can you give some insight into what an average work week looks like for you?
My average work week includes helping staff with any questions they have on their assigned areas, completing my assigned areas and reviewing staff work as it is completed, followed by addressing any review points that come from managers and directors. I also have regular scheduled check in calls with my team and the client which could be multiple times a day, once per day or every other depending on the engagement. Additionally, I like to make sure at the end of each work day my staff know what they can work on in the morning so that if they have different working hours than I do they don't have to wait for me to log on for instructions. The same goes for the end of the week - if I am staring a new engagements on a Monday I like to touch base with my staff the end of the prior week, if possible, so that they are ready to go first thing Monday morning.