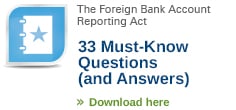 Report of Foreign Bank and Financial Accounts (FBAR) Deadline June 30th

Did you know the deadline to file foreign bank and financial accounts (FBARs) is coming up soon? June 30th is right around the corner!
Many companies and individuals agree that the IRS rules and regulations in regard to foreign bank accounts and international tax issues are confusing and intimidating. That's why it is important to connect with a trusted international tax professional… someone who can navigate through the complexities of these regulations and make things easy and more understandable to those who need to file.
A Little Background
From the IRS website, "If you have a financial interest in or signature authority over a foreign financial account, including a bank account, brokerage account, mutual fund, trust, or other type of foreign financial account, the Bank Secrecy Act may require you to report the account yearly to the Internal Revenue Service by filing Form TD F 90-22.1, Report of Foreign Bank and Financial Accounts (FBAR).
The FBAR is required because foreign financial institutions may not be subject to the same reporting requirements as domestic financial institutions. The FBAR is a tool to help the United States government identify persons who may be using foreign financial accounts to circumvent United States law. Investigators use FBARs to help identify or trace funds used for illicit purposes or to identify unreported income maintained or generated abroad."
Important Reporting and Filing Information- Deadline June 30th
From the IRS website, "The FBAR is an annual report and must be received by the Department of the Treasury in Detroit, MI, on or before June 30th of the year following the calendar year being reported. While FinCEN strongly encourages individuals to electronically file FBARs, the form can be mailed to one of the two addresses below, provided that the mailing is received by June 30, 2013."
What Should You Do Next?
There is limited time left to comply with IRS regulations regarding foreign bank accounts. Please feel free to contact us to connect with a member of our International Tax team. We at Freed Maxick CPAs are poised to assist you in assessing your FBAR filing requirements, assimilating the necessary information and preparing your current and past due FBARs. We also have considerable experience in helping taxpayer's that have not been historically compliant to navigate the IRS guidelines and minimize their potential penalties through the various IRS Voluntary Disclosure Programs that have been available.
Related Links
International Tax Services
Expatriation Consulting Services
Failure to File FBAR | Penalties
FBAR Penalty Relief Under Certain Circumstances
Recent FBAR Developments
Foreign Account Tax Compliance Act (FATCA)
FBAR Survey
U.S. Tax Services for Canadians